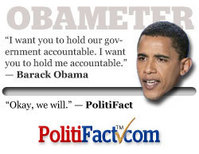 With the Obameter and the improvements to our site, PolitiFact will continue to pioneer new forms of political journalism
St. Petersburg, Fla. (PRWEB) January 16, 2009 -
PolitiFact.com, the fact-checking Web site created by the St. Petersburg Times, has launched an unprecedented journalistic effort to track President-elect Barack Obama's campaign promises and measure the progress of his presidency.
PolitiFact compiled 510 campaign promises for a new feature called the 'Obameter' that will be tracking the progress of the new president's agenda and providing readers with an up-to-the-minute report card.
"With the Obameter and the improvements to our site, PolitiFact will continue to pioneer new forms of political journalism," said Bill Adair, Editor of PolitiFact.
PolitiFact writers will research the status of each campaign promise and select a rating - No Action, In the Works or Stalled on the site's Obameter. Once they conclude that action has been completed, they will rate whether it was a Promise Kept, Compromise or Promise Broken.
To view the complete database of promises, visit http://politifact.com.
The award-winning Web site will also continue to use its Truth-O-Meter to fact-check statements and attacks in American politics, this time focusing on Washington. The site will research and rate claims by the Obama administration, members of Congress, lobbyists, trade associations and people who testify before Congress.
"Although we rely on the new technology of the Web to publish our work, our mission remains a simple and traditional one: to empower democracy," Adair added.
About the Publisher
The St. Petersburg Times is Florida's largest newspaper with an average circulation of 390,289 Sunday and 268,935 daily (ABC publisher's statement 9/30/08). Considered one of the top ten newspapers in the country, the newspaper has six Pulitzer Prizes to its name.
PolitiFact.com was launched in August 2007 and has published more than 750 Truth-O-Meter ratings on statements by the presidential candidates and others involved in the 2008 presidential campaign. It has received numerous awards, including the National Press Foundation's 2008 Excellence in Online Journalism Award and was named one of PC World magazine's "100 Incredibly Useful and Interesting Web Sites."
Contact:
Bill Adair
Editor
PolitiFact.com
(202) 463-0575
http://www.politifact.com
###