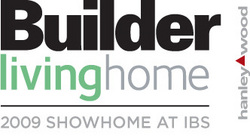 We had fewer than five days to move in, assemble, and finish the components before the opening of the Builders' Show
Washington DC (PRWEB) January 16, 2009
BUILDER LivingHome, the 11th in a series of innovative idea homes produced by BUILDER magazine for the annual International Builders' Show (IBS), showcases the benefits of so-called "hybrid" building techniques that combine to create a better-built and more environmentally responsible home. By leveraging modular construction for its main living areas, factory-built high-tech wall, roof, and floor panels for a third bedroom and carport, and on-site work for selected finishing touches, BUILDER LivingHome redefines "best building practices" for an industry hungry for more efficient and cost-conscious solutions.
"We fundamentally believe that hybrid building will prove to be a better way for the housing industry," says Steve Glenn, founder and CEO of LivingHomes, a premier developer of modern, prefab homes based in Santa Monica, Calif., and the co-producer of BUILDER LivingHome.
Nearly the entire home was built in a factory by Profile Structures, Inc., enabling BUILDER and LivingHomes to place the show home on the exhibit floor of the Las Vegas Convention Center for IBS '09, thus making it easier for builders attending the annual conference to tour the house and see its innovative construction up close.
"We had fewer than five days to move in, assemble, and finish the components before the opening of the Builders' Show," says Boyce Thompson, editorial director of BUILDER magazine. "There was no other way to do that except a factory-built house."
The show home is based on KT1.5, the first in a series of single and multi-family LivingHomes designed in collaboration with the architecture firm KieranTimberlake. She show home was built by Profile Structures and interior design was provided by Color Design Art. A total of four modules, each measuring about 600 square feet, create the main living areas of the two-story home; pairs of connected modules form the two levels. Two of the modules are especially "smart," outfitted with all of the home's mechanical, plumbing, and electrical systems pre-installed in one wall, at the factory. Those systems then align with each other in the stacked configuration, resulting in labor and materials savings compared to conventional building methods.
"Modular building is the most efficient way to build out parts of a house that require a lot of focus," says Glenn, also noting that the controlled, precise, and all-weather environment of a factory setting also contributes to that efficiency. "And it significantly reduces construction waste."
For the home's third bedroom and drive-through carport below, LivingHomes employed its new LivingPanel™ system which is comprised of wall, floor, and roof panels. The panels are also "smart," with mechanical systems, insulation, and other components installed at the factory and shipped to the job site for fast and easy assembly.
"Panels are a great solution because they ship so inexpensively," says Glenn, because several panels can be stacked or laid flat for transport. "Going beyond standard open panels [in which mechanicals are installed on the job site] leverages the value of panelization even more," he says, specifically in on-site labor costs and cycle time.
The "infrastructure" installed in the panels will be on display in the show home at IBS, as LivingHome will leave some sections open to expose those components and systems, allowing builders touring the home to see them in actual application.
What little on-site work remains to be done to ready BUILDER LivingHome for those tours will consist of tying the home's finishes together, conducting small touch-ups, and furnishing the house. "Using these methods, a builder could conceivably have a home ready for market in about a week," says Thompson. While the house is in the factory being built, he says, the builder can clear the site, build the home's foundation, and otherwise ready it for the delivery of the modules and panels.
Accordingly, LivingHomes will be introducing a LivingHomes Builders Program, designed for Builders and Developers who want to offer LivingHomes to their local communities. As part of the program, LivingHomes will provide LivingHome parts or parts and assembly, national marketing and customer referrals, and local partners will provide foundation work and assembly.
LivingHomes also took the "hybrid" concept one step further by employing a structural framing system of both steel and engineered lumber. Specifically, steel frames fabricated in the factory were supplemented by timber-efficient, long-span, precut composite lumber from iLevel for the wall, floor, and roof structures of the four modules and the panels.
BUILDER LivingHome will debut at booth #C5288 at the 2009 International Builders' Show on Tues., January 20, and be open for free guided tours during exhibit hall hours through Friday, January 23. For more information, including profiles of the project team and sponsors, a virtual tour of the house, and photos of the home's construction process, go to http://www.builderlivinghome.com or http://www.builderonline.com. Don't miss the press conference on Wednesday, January 21, 2009 at 8:00am in booth C5288. To RSVP for press conference, please call 202.380.3860.
2009 BUILDER LivingHome sponsors include:
Founding
Andersen Windows & Doors
Whirlpool Corporation
Premier
Kohler Company
Kraftmaid
Underwriting
DuPont
Klip BioTechnologies
Propane Education & Research Council
Tyco Fire Suppression & Building Products
Participating
Beam Central Vacuums by Electrolux
Broan-NuTone
Crossville, Inc.
Eaton Corporation
Energy Saving Products, Ltd.
Ford Motor Company
Generac Power Systems
Goodman Manufacturing Company
iLevel by Weyerhaeuser
Lyptus by Weyerhaeuser
Owens Corning
Rinnai Corporation
The Sherwin-Williams Company
Therma-Tru Doors
Typar Weather Protection System
Uponor, Inc.
About Hanley Wood
Hanley Wood, LLC, is the premier media and information company serving housing and construction. Through four operating divisions, the company produces award-winning magazines and Web sites, marquee trade shows and events, rich data and custom marketing solutions. The company also is North America's leading publisher of home plans. Hanley Wood Business Media (Washington, D.C.), publishes 30 award-winning residential and commercial construction titles, including BUILDER, REMODELING, CUSTOM HOME, CONCRETE CONSTRUCTION and residential architect. Hanley Wood Business Media also offers the construction industry's foremost collection of Web sites, including BUILDER ONLINE, REMODELING ONLINE, and ebuild, the comprehensive online guide to building products, as well as the largest collection of house plans online through eplans.com and Dream Home Source. Founded in 1976, Hanley Wood is one of the ten largest B-to-B media companies in the United States. Hanley Wood is owned by affiliates of JPMorgan Partners, which uses CCMP Capital Advisors to manage this investment.
About LivingHomes®
Founded by CEO Steve Glenn, LivingHomes (http://www.livinghomes.net) is a premier developer of modern, prefab homes that combine world-class architecture with an unparalleled commitment to healthy and sustainable construction. LivingHomes are made in specially equipped factories that ensure unsurpassed quality, lower construction costs and waste and a shorter construction schedule. LivingHomes offers two lines of single and multi-family designs, one created by Ray Kappe, FAIA, the founder of the Southern California Institute of Architecture, and the other by KieranTimberlake (see below). The first LivingHome, designed by Ray Kappe, was the first in the nation to achieve LEED Platinum and was the only home to win the AIA's top sustainability award in 2007. LivingHomes are available in standard or customized configurations to builders, developers and individuals who want a more cost- and time-effective way to integrate homes that feature high design and low environmental impact into their projects.
About Profile Structures, Inc.
Since January, 1965, Feser Construction Co., and subsequently Profile Structures, Inc, has become one of the leading manufacturers of modular, light commercial buildings. Located in Santa Fe Springs, California, this company has applied assembly line production techniques to the manufacture of permanent, fully equipped, code-approved structures for varied commercial use. Utilizing pre-engineered components, custom buildings are produced in a matter of weeks from the approval of plans to occupancy. By virtue of their modular construction, the buildings can be inexpensively relocated at a future date if needed.
About KieranTimberlake
For over two decades, KieranTimberlake has designed beautifully crafted, thoughtfully made buildings which are holistically integrated to site, program and people. Established in Philadelphia in 1984, the firm has produced a diverse body of work for educational, cultural, civic, residential and corporate clients who have been drawn to the firm's environmentally ethical approach and its history of innovation. The design community has recognized the firm for its fusion of design research with architecture, bestowing over ninety design citations, including the 2008 Architecture Firm Award from the American Institute of Architects, the highest honor given to an architectural practice based on its proven consistent ability to accept complex challenges and envision design of elegant distinction.
About Color Design Art
Founded in 1970, Color Design Art (http://www.colordesignart.com) is one of the country's premier merchandising firms for the builder/developer community, having introduced the builder/designer team concept to the industry and completed nearly 4000 projects nationwide. Under the leadership of president Don Anderson, the company enjoys the reputation of being a leader in both lifestyle design and in-depth consumer research. A recipient of over 350 industry awards, Color Design Art remains committed to staying in touch with the latest consumer, marketing and design trends, and to translating those trends into the highest level of quality and efficiency in both product and service.
###