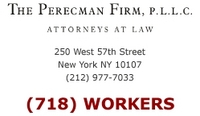 But they go to work anyway
New York, NY (PRWEB) January 21, 2009
In the grips of this once-every-couple-of-years kind of cold, with temperatures expected to drop to about 8 degrees on Thursday night and 9 degrees on Friday, David Perecman, a New York construction accident lawyer, is sending out a warning to construction workers throughout the New York Tri-State area: "Think twice and put your own safety first before you pack your lunch and head off to the construction site," he cautioned.
And if the Farmer's Almanac is any guide, things are only going to get worse before they get better as New Yorkers brace for at least two more months of bitterly cold, flesh-freezing weather.
Perecman, a New York construction accident lawyer and a chair of The New York State Trial Lawyers Association's Labor Law Committee, is unfortunately all too aware of the dangers on a construction site posed by bad weather. In his more than 30 years practicing law, he has represented seriously injured workers, and the families of workers who were killed because they ignored risks of working outdoors, often high above the streets of New York, on windy, bone-chilling cold days that transformed an otherwise safe work environment into a death trap in disguise.
"Fatalities from construction accidents have been on the rise in New York City and, according to Perecman, one factor has been weather.
"Contractors lose money when they don't work and weather slows them down," Perecman said. "Winter cold can numb workers' hands, and high wind conditions increase the danger for workers on a construction site who climb ladders and traverse scaffolding as part of their job.
"But they go to work anyway," New York construction accident lawyer Perecman said. "Can you imagine some poor worker complaining to his boss about the weather?" In real life, if a worker dared say he's staying home because it's snowing, it could be bye-bye job."
Perecman also points out that because of severe cutbacks in new housing construction in New York City, and pressure on builders to finish projects faster than usual, construction safety considerations turn lax and "we see a dramatic increase in worker injuries at construction sites," he said.
###