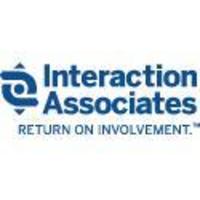 Because the economy is uncertain, business professionals need to keep their skills sharp
San Francisco, CA (PRWEB) January 17, 2009
Interaction Associates, Inc. (IA) has announced open registration for its highly popular workshops scheduled for 2009 in Cambridge, MA and San Francisco, CA. Businesses and individuals use Interaction Associates' workshops to develop leadership skills, build collaborative competence, and advance change management capabilities.
"Our professional skills workshops book up fast. This is a great time to register," said Beth O'Neill, Interaction Associates' Public Workshops Manager. "Now, we offer $100 off each registration when two or more colleagues register for the same workshop. Our acclaimed two- and three-day learning events develop leaders and individual contributors to take a facilitative approach and collaborate better for extraordinary success in the workplace," O'Neill said. Skill-building topics include facilitation, leadership, meeting management, coaching, and trainer excellence.
An interactive calendar is available online here: http://www.interactionassociates.com/services/workshops_calendar.html
Interaction Associates offers a wide range of workshops to fit both individual professionals' and small businesses' needs. They include:

FACILITATIVE LEADERSHIP®: Tapping the power of participation to maximize performance and employee satisfaction;
THE COACHING EDGE®: Enhancing learning and performance through effective coaching relationships;
ESSENTIAL FACILITATION®: Helping groups reach agreement and take focused action through a variety of practical collaboration skills and methods;
THE MASTERFUL TRAINER®: Creating high-energy learning environments for more effective training.
"Because the economy is uncertain, business professionals need to keep their skills sharp," O'Neill said. "Now is no time to put professional development on the back burner."
Interaction Associates' experiential workshops provide practical tools and skills in a positive, supportive atmosphere. Participants meet and learn from peers in a variety of industries - people with similar challenges and goals, and with a wealth of experience to share. IA also offers workshops at client sites and is known for its custom learning solutions.
For more information, visit interactionassociates.com, or call Mary Frances Reidy at 1(800) 347-8352 or 415-343-2664.
About Interaction Associates
Interaction Associates (IA), founded 1969, has 40 years' experience in helping companies find breakthrough solutions to business challenges. IA's integrated management consulting and learning and development services have been used by Fortune 500 companies, government agencies and nonprofit organizations throughout the world. Interaction Associates helps these enterprises set strategic direction, inspire commitment, and build leadership capabilities, leveraging the power of collaborative action for long-term, sustainable results. Visit http://www.interactionassociates.com.
This press release was distributed through eMediawire by Human Resources Marketer (HR Marketer: http://www.HRmarketer.com) on behalf of the company listed above.
###