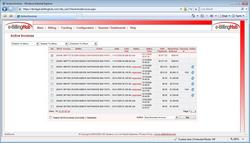 As a long time customer of the eBillingHub, we are delighted to see these new additions to its functionality
Pittsburgh, PA (PRWEB) January 29, 2009
eBillingHub®, the market leader in simplifying electronic billing for law firms, today announced availability of its newest version, with new functionality that addresses the demands of its growing customers base. With this release, eBillingHub continues to deliver highly valuable content to law firms, specifically focusing on its mission of simplifying the process, and reducing the related costs, of law firm electronic billing.
"We address a number enhancement requests in this release, the majority of which come from our customers, and also from our partners and leaders in the legal technology market including Elite, a ThomsonReuters Business (NYSE: TOC; TSX: TOC), ADERANT and RainMaker Legal," stated Greg Coticchia, CEO of the eBillingHub. "As a business, we focus our efforts on customer satisfaction, especially since we deliver the eBillingHub as Software as a Service. This new release adds a number of new key capabilities to further simplify the eBilling process, all tied together through an exciting new user interface."
"As a long time customer of the eBillingHub, we are delighted to see these new additions to its functionality," said Kathryn Lopez of Finnegan, Henderson, Farabow, Garrett & Dunner, LLP, #86 on the AmLaw 100. "We appreciate these new additions to the services, especially the email profiling, and look forward to continuing to add input to new functionality in future releases."
Key deliverables for this eBillingHub release include:

Role-based Access Control. This new release adds improved user security to restrict access based on user access roles, allowing firms that want to restrict users in their actions because of their role.
Concurrent Status Change. With this new addition, firms now have the capability to mark multiple invoices ebilled or rejected at one time adding to the efficiency of the eBilling workload.
Visibility of Partial Pays. eBillingHub adds the ability to view partially paid invoices for more control over the status of your eBills.
Granular Action Selection. Now firms can select multiple ebills and perform different actions such as: change status, print, preview, view emails, delete.
Email Notification Profiling. Law firms can now profile incoming eBilling vendor emails by associating an email notification to one or more invoices, making sure no communications or updates are lost or go unnoticed.
Streamlined Visibility. The very popular Reports and Dashboards functions have been reorganized and improved on for faster identification and usage
Improved User Interface. The navigation and user interface have been rewritten, allowing an even easier interaction with the eBillingHub and simpler ways to 'get the bills out'.
The eBillingHub recently announced record results for fiscal year 2008, highlighted by a 156% increase in its customers and a 212% increase in earned revenue over fiscal (calendar) year 2007. eBillingHub's flagship product, the eBillingHub, helps law firm reduce the complexity of ebill submissions, eliminate billing backlogs and common submission errors, speed up the collection process, and minimize or eliminate the need for additional staff related to electronic billing. This all results in improved cash flow, increased partner distributions, and enhanced client service.
About eBillingHub®:
eBillingHub delivers simplified electronic billing for law firms worldwide, making it possible for firms to eliminate costs and improve cash flow as they grow their electronic billing volume. The company's patent-pending technology, delivered as Software as a Service (SaaS), provides a comprehensive and collaborative approach for preparing, tracking, submitting and managing the electronic billing process. Unlike tools used by law firms to create LEDES invoice files, the eBillingHub simplifies the electronic billing process by integrating a law firm's time and billing software with multiple electronic billing vendors, which are often specified by a firm's clients. For more information, please visit http://www.ebillinghub.com. Also visit our blog, the HuBlog at http://ebillinghub.typepad.com/hublog/ and our Podcast, the HubCast at http://ebillinghub.libsyn.com.
Editor's Note: The correct usage of the eBillingHub company or product name is with a lowercase 'e' and uppercase 'B' and 'H'. eBillingHub® is a registered trademark and the LEDES Toolkit™ is a trademark of IGD Systems, d/b/a the eBillingHub. All other trademarks mentioned herein are the protected properties of their respective owners.
# # #