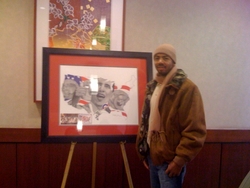 I am pleased with the exposure that this limited edition drawing is receiving...
Washington, DC (PRWEB) January 18, 2009
Christopher Shannon Art today announced the much appreciated support of his latest work Change in America by a local Washington DC area hotel.
"I am pleased with the exposure that this limited edition drawing is receiving..." says Shawn Cook, public relations specialist with Say it and See It Productions. "I personally am on my own campaign to have Christopher Shannon be the official artist for the Obama administration."
Four Points by Sheraton Hotel in Washington DC Downtown will be displaying Christopher Shannon's artwork in their lobby throughout inauguration week. "We are pleased to support a local artist," says Ayesha Arora-Sharma, Director of Sales and Marketing for the Four Points Sheraton Hotel Washington DC Downtown. "This isn't just some poster of President Elect Barack Obama, this is great artwork."
The Four Points Sheraton hotel is located in the heart of downtown Washington DC and offers a great place meet, greet, and eat. "This is the place to meet -- whether you're planning a large corporate event in the 8,000 square feet of meeting space or gathering in the Club Lounge," says Ayesha. "The artwork by Christopher Shannon serves as a great conversation piece for those that are lounging around and visiting this week. I sincerely think his work is spectacular," says Ayesha.
"I personally cannot keep my eyes off it," says Richa Singh, a DC resident visiting guests at the District Grill Restaurant and Lounge located at the Four Points by Sheraton DC Downtown. "It's very, very unusual but the details literally jump out at you so much that it seems real. Not surprisingly, I've seen lots of art dedicated to Barack Obama but this is truly an amazing piece of work."
Christopher Shannon is working with other DC Hotels to feature the Change in America. "I'm just really happy to see the response..." says Christopher Shannon. "... I knew that this picture was something special but I had no idea that it would evoke such excitement and emotion." "This is the most unique Barack Obama Art that is available for purchase..." says Johann King art enthusiast and DC resident. " I would compare and put this up against any piece out there and for only $600 framed, its a steal."
"This local support proves that we aren't just wishful thinkers when it comes to the work of Christopher Shannon," says Shawn Cook. "I cannot wait until the entire collection is released on President's Day."
Change in America is a striking and realistic portrait of President-Elect Barack Obama delivering one of his most moving and impactful speeches. President-Elect Obama is centered in the middle of The United States of America that unanimously elected him as their 44th President. Displayed throughout the drawing are American currency in the form of coins or change that amplify the overall message that led record numbers of American voters to the polls and united American people of every race, religion and political affiliation. This particular work being introduced here has been in secret development for a long time and is the first in a series of portraits dedicated to the historical presidency of Barack Obama. Christopher Shannon captures not only the spirit of this historic event, but also the literal meaning of change. "I appreciate the local support and I am motivated to finish the other two illustrations," says Christopher Shannon.
About the Artist:
Christopher Shannon is a self taught freelance artist, illustrator with over 10 years of experience as a professional. Christopher's passion for drawing and painting grew out of the unpleasant experience of being incarcerated for 8 years. This experience however gave birth to Christopher's passion for art and his unusual techniques. Christopher Shannon has developed a technique that brings realistic effects to many portraits. In some cases his artwork looks as if the original photo has been enlarged. A detailed Bio-Interview can be found on Christophershannonart.com
Fine Art Reproductions with a Personal Touch:
Fine art collectors, commercial buyers and interior designers should be delighted to know that only the highest quality fine art reproductions are offered by Christopher Shannon Art. Most of the original drawings are fairly large so they are being presented in several sizes appropriate for any wall space.
As one might imagine, Christopher Shannon's exacting nature commands quality at every level. Every drawing is signed by the artist and accompanied by a certificate of authenticity.
For more information or to order limited edition prints or commissioned art visit http://www.ChristopherShannonArt.com.
Media Inquires: Say It & See It Productions, LLC
Press Contact:
Shawn Matthew Cook
Ph: 301-943-8666
###