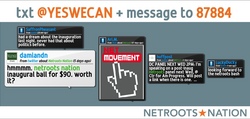 We have been very fortunate to have had Wiffiti at pivotal moments in this election. We are delighted to see Wiffiti as the social glue for the culmination of such an historic event.
Cambridge, MA (Vocus) January 19, 2009
LocaModa, a Cambridge-based technology company that makes social media work across web, mobile, and digital out-of-home networks, today announced that their Wiffiti platform will take center stage at inauguration events across the nation.
One prominent event featuring Wiffiti is the Netroots Nation grand inauguration bash. The aptly-named Yes We Can Party features a user-generated social media Wiffiti screen, allowing people to submit and view text messages and photos on venue screens that are also live on the web.
Wiffiti has helped voters be heard and has made it easy for their messages to spread from mobile phones to thousands of locations, blogs, websites and social networks. Wiffiti has been used at previous Netroots events as well as at the DNC; ironically, it was also used to reach across the aisle at the RNC. Wiffiti was also leveraged for fundraising events such as Obama Minute, which raised $400,000 by having Wiffiti screens in Times Square and online.
LocaModa's Director of Community, Jayne Karolow, said: "We have been very fortunate to have had Wiffiti at pivotal moments in this election. We are delighted to see Wiffiti as the social glue for the culmination of such an historic event."
The inauguration version of Wiffiti will display live streams of global user generated content from people at the events via their cellphones as well as millions of people on the web via sites such as Twitter and Flickr.
On the evening of January 19th, LocaModa will light up a Wiffiti installation on a 45" by 80" projection screen at the Clarendon Ballroom, just three miles from downtown DC. The screen allows for live messages to be sent to the screen and also displays tagged Twitter and Flickr feeds (appropriately tagged "Obama," "Netroots Nation," "Inauguration," etc). Supporters who aren't in attendance at the sold-out event can view the screen and even participate remotely, creating a dynamic social "capture" of the historic inauguration. Various websites and blogs, including the Providence Journal, are extending the conversation even further by posting Wiffiti screens for readers to express their support and opinions on the event.
To participate in the Netroots Nation YesWeCan Party via Wiffiti, visit http://bit.ly/netroots_yeswecan. Text messages can be sent in the form of "@yeswecan + message" to 87884. The event will take place from 7 p.m. to Midnight on January 19, 2009.
About LocaModa
LocaModa connects people and places online and off, bringing out-of-home locations to the web and web experiences to locations such as bars, cafes, colleges, public spaces and conferences. LocaModa Inc. is a privately held company, incorporated in Delaware, headquartered in Massachusetts and founded by Stephen Randall, a former EVP/Founder of Symbian. True to its global vision, LocaModa is internationally backed by Dace Ventures in USA, Mahindra Group in India and Sumitomo Corporation of Japan, via its US-based strategic investing arm, PresidioSTX. Additional information on LocaModa can be found at http://www.locamoda.com.
About Netroots Nation
Netroots Nation amplifies progressive voices by providing an online and in-person campus for exchanging ideas and learning how to be more effective in using technology to influence the public debate. Through our annual convention and a series of regional salons held throughout the year, we strengthen our community, inspire action and serve as an incubator for ideas that challenge the status quo and ultimately affect change in the public sphere. More information can be found at http://www.netrootsnation.org.
# # #