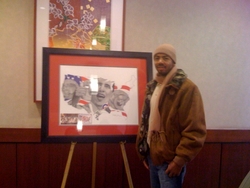 I appreciate the local support and I am motivated to finish the other two illustrations
Washington, DC (PRWEB) January 20, 2009
Christopher Shannon Art today announced the Inauguration week display of Change in America: the unique artistic interpretation and professional illustration that is taking the art world by storm at the luxuriously chic Doubletree Hotel & Guest Suites located in Downtown Washington DC.
"It's a great way for us to not only show our appreciation for great art," says Felix Barreras, Director of Sales and Marketing at the upscale Washington, DC hotel. "This art on display in our lobby is also the perfect accessory as we celebrate history taking place right before our very eyes."
The Doubletree Hotel & Guest Suites in Downtown Washington DC provides boutique accommodations combined with distinctive lifestyle-enhancing amenities that create a rejuvenating atmosphere. This was a perfect atmosphere for Christopher Shannon to put his artwork on display.
"We are receiving so many calls and orders for this limited edition print as a result of this local support," says Christopher. "I expect these to be lasting partnerships where tourists, art enthusiasts and families' alike visiting the Washington DC area can get a real feel for what DC artists' have to offer. I am both humbled and appreciative of the support from the Doubletree here in Washington DC. I couldn't be more elated about it." "This is the most unique Barack Obama Art that is available for purchase..." says Johann King art enthusiast and DC resident. " I would compare and put this up against any piece out there and for only $600 framed, its a steal."
The Doubletree Hotel & Guest Suites is located in an exciting urban location. Nestled in the vibrant Dupont Circle area, the elegant hotel provides the comfort and convenience that visitors to our Nation's Capital deserve.
"They found the perfect position to place this illustration," says Shawn Cook, Public Relations Specialist with Say It and See It Productions, LLC. "Walkers by can get a good look at the picture and it really does serve as a conversation piece for those on their way to the lounge area or to 15 ria." The 15 ria is a stylish and intimate downtown Washington, DC restaurant located at the Doubletree Hotel Washington, DC.
Change in America is a striking and realistic portrait of President-Elect Barack Obama delivering one of his most moving and impactful speeches. President Elect Obama is centered in the middle of The United States of America that unanimously elected him as their 44th President. Displayed throughout the drawing are American currency in the form of coins or change that amplify the overall message that led record numbers of American voters to the polls and united American people of every race, religion and political affiliation. This particular work being introduced here has been in secret development for a long time and is the first in a series of portraits dedicated to the historical presidency of Barack Obama. Christopher Shannon captures not only the spirit of this historic event, but also the literal meaning of change.
"I appreciate the local support and I am motivated to finish the other two illustrations," says Christopher Shannon.
About the Artist:
Christopher Shannon is a self taught freelance artist, illustrator with over 10 years of experience as a professional. Christopher's passion for drawing and painting grew out of the unpleasant experience of being incarcerated for eight years. This experience however, gave birth to Christopher's passion for art and his unusual techniques. Christopher Shannon has developed a technique that brings realistic effects to many portraits. In some cases his artwork looks as if the original photo has been enlarged. A detailed Bio-Interview can be found on Christophershannonart.com.
Fine Art Reproductions with a Personal Touch:
Fine art collectors, commercial buyers and interior designers should be delighted to know that only the highest quality fine art reproductions are offered by Christopher Shannon Art. Most of the original drawings are fairly large so they are being presented in several sizes appropriate for any wall space.
As one might imagine, Christopher Shannon's exacting nature commands quality at every level. Every drawing is signed by the artist and accompanied by a certificate of authenticity.
For more information or to order limited edition prints or commissioned art visit http://www.ChristopherShannonArt.com.
Media Inquires: Say It & See It Productions, LLC
Press Contact:
Shawn Matthew Cook
Ph: 301-943-8666
###