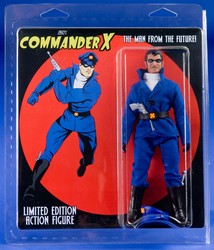 The books have a tag-line 'Stand by for adventure!' and that is exactly what Piscopo delivers non-stop.
New York, NY (PRWEB) January 20, 2009
The second action figure in The Undersea Adventures of Capt'n Eli Mego-style Commander X collection will debut at New York Comic-Con on Feb. 6. This new 8-inch 1950s Commander X action figure is the first variant since the original Golden Age Commander X was released in Dec. 2008. Look for this new figure in Nemo Publishing's Booth 1927.
Commander X is an integral character in Jay Piscopo's new all-ages The Undersea Adventures of Capt'n Eli graphic novel series, published by Nemo Publishing and distributed nationally by Diamond Comic Distributors.
The 1950s Commander X Mego-style action figure will be in a special package designed exclusively for New York Comic-Con and will not be available to the public until after the show so this is a unique opportunity for convention-goers.
This figure was created in a nostalgic style reminiscent of figures made by the Mego Corporation in the 1970s. "Dr. Mego" - Paul Clarke - consulted with Piscopo on this figure and Clarke's company EMCE Toys manufactures the Commander X action figure line for Nemo Publishing. Clarke is a Mego expert and is the foremost reproducer of parts and accessories for collectors, Twisted Toyfare Theatre, and Cartoon Network's Robot Chicken.
On Saturday, Feb. 7, Clarke will participate in the Mego: Past, Present, and Future panel along with Mego's founder, Marty Abrams; Joe Sena of EMCE Toys; and Chuck Terciera from Diamond Toys. This panel will be hosted by Justin Aclin of Toyfare Magazine.
Look for the Capt'n Eli crew in Booth 1927 where Piscopo will offer free convention sketches and hand out limited edition collectible card games, collectible pins and mini-comics.
On Sunday, Feb. 8, Nemo Publishing will also have a special Kids Day booth and, at noon, Piscopo will lead an interactive Kids Draw panel with artists Jamal Igle, Ruben Procopio, and Chris Schweize.
Praise for The Undersea Adventures of Capt'n Eli graphic novel series:
"Every now and then I stumble across something that is seriously cool and seriously different...." ~Brad Moon, WIRED
"Capt'n Eli is a rarity in today's marketplace: an all-ages series that is truly all ages...."
~Cliff Biggers, Comic Shop News
Jay Piscopo turns the dial over to eleven and creates a book that's even better than the first."
~Jeff Marsick, Newsarama
"The books have a tag-line 'Stand by for adventure!' and that is exactly what Piscopo delivers non-stop." ~Ron Fortier, Comics Related
More about Nemo Publishing:
http://www.captneli.com
More about Mego:
http://www.megomuseum.com
More about New York Comic-Con:
http://www.nycomiccon.com
###