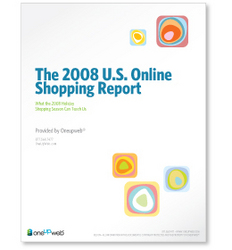 This means it is vital for companies to stay top of mind with consumers in 2009. Online marketing and integration is a good way to get there.
Traverse City, Michigan (Vocus) January 20, 2009
If companies can take anything positive away from the 2008 holiday shopping season, it's the knowledge of just what to expect in a down economy. And according to digital marketing leader Oneupweb, that equates to one lesson: plan ahead and follow through.
"We found that in a down economy, consumers are starting earlier and waiting longer for the best deals," explains Oneupweb founder and CEO Lisa Wehr. "This means it is absolutely imperative for online companies to have 2009 plans and promotions in place much earlier than in previous years. There are sales to be had for those who are ready, and willing to wait."
In their new study entitled The 2008 U.S. Online Shopping Report: What the 2008 Holiday Shopping Season Can Teach Us, Oneupweb compiled data from a variety of e-commerce companies ranging from jewelry and athletic equipment to home décor, gifts and more to determine when consumers started their holiday shopping and evaluate what period of the season was the most important to reach them. The study encompasses the actions of just under 2 million unique consumers and reveals some important information:

Holiday traffic and conversions start before Halloween. Yes, before Halloween.
The week of Halloween experienced the highest volume of sales. Interestingly, this was also the week before elections.
The week following Christmas is just as important as those before, experiencing an increase in conversions and sales.
"The findings reveal some important consumer buying trends in a down economy, such as an increase in online browsing," says Wehr. "This means it is vital for companies to stay top of mind with consumers in 2009. Online marketing and integration is a good way to get there."
To download a free copy of the complete study, please visit OneUpWeb.com.
About Oneupweb
Oneupweb has been an innovator in digital marketing for more than a decade, creating integrated online marketing plans that include natural search engine optimization (SEO), paid search marketing (PPC), conversion improvement and analytics, podcast production, social media marketing, online media planning and placement and search marketing consultation for in-house marketing teams. Oneupweb has twice been named a Top 20 Search Marketing Agency by Advertising Age, and CEO Lisa Wehr is recognized as an Ernst & Young Entrepreneur of the Year. The company publishes an award-winning blog and podcast entitled StraightUpSearch. Oneupweb is a privately held company located in Traverse City, Michigan. For more information on Oneupweb, please call 231.922.9977 or visit OneUpWeb.com.
###