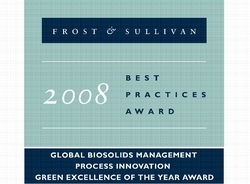 An outside the box technology, the SlurryCarb™ process offers the biosolids marketplace an alternative to traditional management solutions that generates a renewable fuel, called E-Fuel, that can be used to substitute coal in cement kilns or industrial and utility boilers
Atlanta, Georgia (PRWEB) January 20, 2009
EnerTech Environmental, Inc. announced today that its SlurryCarb™ process has received the 2008 Global Frost & Sullivan Green Excellence Award of the Year. Each year, Frost & Sullivan presents this award to the company that has best demonstrated a global awareness of green issues and results-oriented environmental objectives aimed at reducing humanity's ecological footprint.
"We are honored to have the SlurryCarb™ process recognized by Frost & Sullivan, and to be included in the list of outstanding companies that they have acknowledged for their achievements over the years," said John Prunkl, EnerTech President and Chief Operating Officer, who accepted the award. "EnerTech is committed to working to provide communities with economically and environmentally sustainable biosolids-to-energy solutions."
The SlurryCarb™ process was chosen this year for its innovative answer to recycling biosolids (sewage sludge). "An outside the box technology, the SlurryCarb™ process offers the biosolids marketplace an alternative to traditional management solutions that generates a renewable fuel, called E-Fuel, that can be used to substitute coal in cement kilns or industrial and utility boilers," said Prasanna Mohan, Industry Analyst at Frost & Sullivan.
Due to its renewable nature, the carbon released from E-Fuel during combustion is part of the recent carbon cycle and hence does not contribute to global warming. This means that the SlurryCarb™ process has zero net greenhouse gas emissions.
"By converting biosolids, a common waste, into a renewable energy source, the SlurryCarb™ process is part of a next generation of innovative technologies that are turning old problems into efficient and sustainable alternative energy sources," said Mohan.
About Frost & Sullivan
Frost & Sullivan, the Growth Partnership Company, enables clients to accelerate growth and achieve best in class positions in growth, innovation and leadership. The company's Growth Partnership Service provides the CEO and the CEO's Growth Team with disciplined research and best practice models to drive the generation, evaluation and implementation of powerful growth strategies. Frost & Sullivan leverages over 45 years of experience in partnering with Global 1000 companies, emerging businesses and the investment community from 31 offices on six continents. To join our Growth Partnership, please visit http://www.frost.com.
About EnerTech Environmental, Inc.
EnerTech Environmental, Inc. is a renewable energy company dedicated to the protection of public health and the environment. The company provides answers to the problems of traditional waste management methods and simultaneously creates renewable energy - in a way that makes economic sense. EnerTech's patented SlurryCarb™ process cleanly and economically converts biosolids (sewage sludge) and other high moisture wastes into a high-grade, renewable fuel, with significant cost savings over alternative methods. EnerTech's corporate headquarters are located in Atlanta, Georgia. For more information, please visit http://www.enertech.com.
###