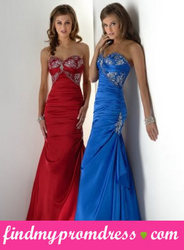 Grass Valley, CA (PRWEB) January 20, 2009
The big prom event is a few months away, but the time to buy a prom dress is right now. Nancy Fallat, owner of Find My Prom Dress says "To not be disappointed prom dresses should be ordered in January.
This year especially is expected to be frustrating for high school girls as manufacturers have severely cut back their inventory." Choice and variety is best when shopping online for prom dresses but most website stores order their dresses one at a time from the manufacturer only after an order is placed. Since designer styles are seasonal and limited in production, when the manufacturer runs out of inventory, most of the online stores do too. Every year retailers have to cancel about 1/2 of the orders placed by customers due to unavailability.
Why do websites still show a dress if it is not available one might ask? Many times the dress is available but only certain sizes are sold out. Additionally, since the dress must be shipped or sometimes even produced, the time between the order and the date of the event is too short. For prom dresses 2009, ordering early is even more important. Due to the current economic situation everywhere, manufacturers have cut back on their inventory so the most popular dresses are even less available than usual. Experienced prom dress customers realize this and make sure that they order early next time to have the dress of their choice. As of the beginning of January, many prom styles are already backordered into April. Due to this, findmypromdress.com has set up a convenient layaway plan for 2009 so dresses can be reserved early with a convenient payment plan.
Everyone loves a bargain and getting a good deal. This is definitely true when buying prom gowns online but there are a few things to know in order to make sure one is really are getting a good deal. Manufacturers enforce minimum pricing levels that authorized dealers cannot go below and enforce this minimum retail price because they do not want their designs to be devalued to the point that retailers can no longer afford to carry their line. If websites do not abide by this minimum advertised pricing, the manufacturers close their accounts and will not ship dresses to them anymore. The offending websites might still have the designers' dresses on their site, but if customers ordered from them they are taking a big risk that they either will not get their dress or that it will be a knock-off. With the web being extremely price competitive, essentially all prom dress sites have lowered their pricing down to the minimum limit. This is why you will see the same price on a dress on just about every website. Find My Prom Dress will also price match on request to any other website's pricing as long as they are not below the enforced minimums. So, if one wants to be assured you will get the designer dress you paid for, it really comes down to customer service and other factors.
Some of the important factors in choosing a prom dress site include:

Is it truly a prom store or is it a bridal store unlikely to carry a lot of stock and not be as prom savvy?
Is the site an authorized dealer and listed on the manufacturer's website?
Are you confident that the dress is directly from the designer and not a knock-off?
Are the dresses fresh and unopened or are they shopworn from store customers trying them on?
How responsive is the website to your questions and how knowledgeable are they about prom dresses?
Can you get free shipping?
If you are above size 16 is there an additional charge for plus sizes?
Do you get anything else with your dress such as complimentary accessories?
Is the site secure? Do they have an explanation on the site regarding security and privacy?
Is there a lot of information on the site? You should have all of your questions answered and feel confident about your purchase.
Are policies clearly written so that there is no misunderstanding?
These are all important issues to consider when buying a prom dress.
During December visitors were able to complete a survey on the Find My Prom Dress website and voted on what styles they thought were hot for 2009. Based on these exclusive surveys, 2009 prom dress lines by Jovani, Flirt, Paparazzi, Night Moves, and Tiffany are expected to be the hot sellers. So shop early, make sure you are getting the real deal, and don't forget the free extras offered at Find My Prom Dress.
About Findmypromdress.com
Findmypromdress.com, a division of Proms To Beaches, Inc. is one of the leading prom dress websites in the USA. The business focuses exclusively on prom dresses, homecoming dresses and quinceanera gowns and does not carry bridal gowns or bridesmaids dresses. They provide great customer service from helping find the right dress to monitoring the order every step of the way and have thousands of satisfied customers since beginning in 2002.
###