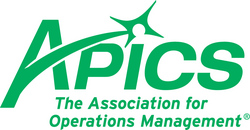 Waynesboro, VA (PRWEB) January 23, 2009
Gary Capone, Vice President of Palladian International, an executive recruiting firm specializing in manufacturing and distribution, was elected President of the Blue Ridge Chapter of APICS and took office January 1, 2009.
Capone takes over as President for Maryanne Ross, CFPIM, CIRM, CSCP. Ross has led the chapter for the last two years and was instrumental in earning the Chapter's first quality award - a Silver C-Bar from APICS. She is a member of the National Board of Directors of APICS and will continue to play an active role in the Chapter and in operations training in the region.
Capone joined APICS in 1995 and has served on the boards of the Pittsburgh and Blue Ridge Chapters. For the last two years, he has been Vice President of Membership for the Blue Ridge Chapter.
"APICS has been a wonderful resource for professional development in my career. The emphasis on operational excellence - improving productivity, decreasing downtime, lowering inventories, improving quality and streamlining processes - is always important. Today, with our economic challenges, an organization like APICS is even more important as companies need to change to survive and succeed," said Capone.
Capone co-founded Palladian International, LLC. Palladian provides executive recruiting services to companies seeking managers and executives in operations roles, and provides Interview Coaching and
Resume Writing Services to job seekers. He is also the primary author for a daily blog providing job search advice.
About Palladian International, LLC:
Palladian International is an executive search firm specializing in finding key managers and executives, individuals that clearly standout in their industry, in the manufacturing, distribution and defense industries, with a focus on operations, supply chain and sales careers. Palladian has successfully conducted talent searches throughout the US, Europe and the Middle East. Palladian also offers career coaching services to job seekers, including interview preparation and resume writing services. http://www.palladiancr.com
About APICS The Association for Operations Management:
APICS The Association for Operations Management is the global leader and premier source of the body of knowledge in operations management, including production, inventory, supply chain, materials management, purchasing, and logistics. Since 1957, individuals and companies have relied on APICS for its superior training, internationally recognized certifications, comprehensive resources, and worldwide network of accomplished industry professionals. The Blue Ridge Chapter, founded in 1982, serves the Charlottesville, Waynesboro, Staunton and Harrisonburg regions. http://www.blueridgeapics.org
###