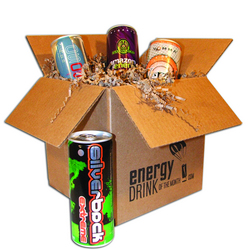 My husband is a fanatic about energy drinks. Through his affinity to energy drinks, I realized how huge the energy drink market was--but he always complained how difficult it was to find out-of-the-ordinary brands. You're not going to see your every day Red Bull, Rock Star, or Monster energy drinks in our program
Golden, CO (PRWEB) January 20, 2009
Energy drink aficionados can now enjoy rare energy drinks finds through a unique home delivery program. An entrepreneurial start-up company, EnergyDrinkoftheMonth.com, is providing this unique service and offers energy drinkers a special opportunity to try uncommon energy drinks not typically available at local outlets. The new home-delivery program is now available on-line 24/7 and is a great gift idea. The woman-owned company launched in mid-November 2008 and is now available for those thirsty for a unique energy drink fix.
Gwen Davidson, the CEO, which stands for Chief Energy Officer, explains how the company idea came about. "My husband is a fanatic about energy drinks. Through his affinity to energy drinks, I realized how huge the energy drink market was--but he always complained how difficult it was to find out-of-the-ordinary brands. You're not going to see your every day Red Bull, Rock Star, or Monster energy drinks in our program," Davidson continues. Instead of the usual brands found at most retailers, EnergyDrinkoftheMonth.com highlights unique and niche energy drink brands from around the world, most often those with limited distribution.
"Through EnergyDrinkoftheMonth.com, subscribers can choose how many drinks and how often they want to receive them," Ms. Davidson points out, "or simply try a single month membership."
The program is available as a single shipment or a 3- or 6-month delivery option in either a 4-pack or 6-pack quantity. Unlike other monthly clubs, there are no additional commitments, making it easy for subscribers to choose a program custom fit for their budget, curiosity or gift giving needs. This flexibility makes the program a great gift idea for the caffeine fiend on your list, tired Mom or 9-5'er looking for a little pick-me-up.
Currently, there are websites that offer energy drink reviews but no other site offers this unique opportunity to taste and explore so many obscure energy drink brands. With EnergyDrinkoftheMonth.com, caffeine fanatics nationwide can rejoice in the good news that there are new and unique energy drinks simply waiting for them at their doorstep. Furthermore, no other distribution concept provides beverage manufacturers such a unique opportunity to get their product into the hands of such a wide audience of energy drink trend setters and enthusiasts.
Product samples you might find from EnergyDrinkoftheMonth.com include XL Energy Drink, an international success that is expanding rapidly across the U.S. or Inspiration Beverage's (Lakewood, CO) niche brand, Bing, produced from bing cherries. This guilt-free, health-centric energy drink is comprised of natural stimulants and ingredients for health-conscious energy drinkers.
Start enjoying the benefits of membership today with a 4- or 6-pack subscription from http://www.EnergyDrinkoftheMonth.com and experience the diversity in energy drink products. Buzz over to the site…hundreds of unknown options await.
###