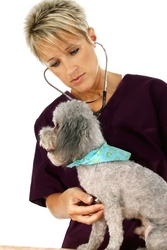 Though finding a loan may presently be difficult for many businesses thanks to the current economic climate, there is still a definitive, growing need for veterinary services and thus for financing for their practices
Cheyenne, WY (Vocus) January 21, 2009
When Dr. Byron Farquer and his colleagues launched the nonprofit banking site VeterinaryLoans.com in June of 2008, their primary focus was to provide a secure portal for veterinary lenders and borrowers to meet. Six months and $45 million in veterinary loan requests later, the prognosis for the site and for veterinary lending as a whole appears favorable. In the midst of economic upheaval, the veterinary service sector remains relatively recession-proof.
"Though finding a loan may presently be difficult for many businesses thanks to the current economic climate, there is still a definitive, growing need for veterinary services and thus for financing for their practices," Farquer says.
One reason for this appears to be risk – or a lack thereof. According to Veterinary Practice News, veterinarians pose little risk to lenders and are categorized as one of the top three most reliable recipients of funding. However, even with such an endorsement, it's still not simple for a would-be entrepreneur to find funding for a new veterinary office or expansion of an existing practice.
Historically, local banks have preferred to finance projects that present plenty of tangible assets. Adding to that challenge, some specialty lenders that historically favored veterinary lending have recently reduced their holdings. That doesn't mean funds aren't available for veterinarians in today's market. It just takes some legwork to find them. Enter VeterinaryLoans.com.
"Think of this website as an amalgamation of loan officers specifically looking to finance veterinary practices," Farquer says.
During a visit to the site, would-be borrowers are encouraged to fill out a secure "Vet Vault" form which stores their information and reveals it to pre-qualified lenders. It's a virtual alternative to going door-to-door from lender to lender, spending inordinate amounts of time on paperwork and waiting for a party to show interest. The site also serves as a clearinghouse for up-to-date articles and news regarding veterinary lending.
"The bottom line is that recession or not, America's pets are still going to need care," Farquer says. "With this site, we're helping veterinarians find the funds they require to provide that."
###