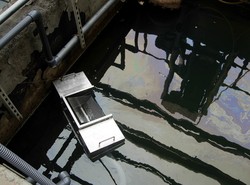 Our senior engineer studied a half-dozen technologies, and we decided this new technology was the way to go. We're real happy with the results.
Torrance, CA (PRWEB) January 21, 2009
The process of oil and water separation has been revolutionized by a completely new technology from Aqueous Recovery Resources, Inc. (ARR) of Bedford Hill, New York. Systems harnessing this technology, which is based on basic principles of fluid dynamics, are saving time and money because it requires no maintenance, electronic control, energy or consumables.
Traditional attempts at separating entrained oil from industrial water have met with less-than-satisfactory results.
The gun barrel (or "primary knock-out") tank is a system where crude gets pumped into the tank where oil separates and floats upward while water settles to the bottom. Dirt, paraffin and iron compounds can end up suspended within the interface, creating a thick "rag" layer that inhibits the separation process and causes operational problems.
Skimmers take too thick of a cut and merely transfer the problem from one separation vessel to another. Baffles, velocity increasing orifices, torturous matrices, parallel plates and coalescing tubes all have a negative effect on separation because they actually increase mixing.
Unable to achieve primary separation, some companies have attempted to solve the problem by tacking on "polishing" technologies at the back end of the separation process. Yet, ultra filters, core wrapped membranes, and reverse osmosis systems can cost hundreds of thousands of dollars and still not effectively handle the oil.
Pioneered by ARR, the Suparator® system is designed for oil and water separation using new technology that incorporates a three-step separation process--collection, concentration and separation. It involves no moving parts or media.
The Suparator® brings industrial water and oil into its first compartment, where only the water gets sucked out through an opening at the bottom. The design ensures that even the smallest traces of oil get collected. The oil, still containing some water and chemicals, gets concentrated into a floating layer of considerable thickness, while water and chemicals migrate toward the interface and re-enter the water flow. The oil is then further concentrated to force water and chemicals out to yield an oil-only layer. The upper fraction of the accumulated floating layer gets skimmed off, isolating pure oil. Finally, this "dry" oil is separated and ready for downstream refining or storage.
The Suparator® takes advantage of the Bernoulli Effect, the phenomenon whereby increased stream velocity in a fluid results in internal pressure reduction. Best known as the principle that creates lift in aircraft wings, it can also dynamically separate liquids of differing specific gravities.
"With tightening regulations in most states to control hydrocarbon emissions in air or water, we sought out a novel approach to oil water separation." says Michael Enos president and CEO of Monument-Colorado-based Auxsol, Inc. "Our senior engineer studied a half-dozen technologies, and we decided this new technology was the way to go. We're real happy with the results."
Effective oil and water separation saves both valuable process fluids and allows forming oils to be recovered and also reused - potentially reducing process consumables by 50 percent. Current large-scale users include Ford Motor Company, Parker Hannifin, LISI Aerospace, Thomas and Betts, and GE.
For more information, contact Kim Kaplan at Aqueous Recovery Resources, Inc. (ARR), 300 Adams Street, Bedford Hill, NY 10507; Phone: (914) 241-2827; Fax: (914) 242-7346; visit the web site: http://www.suparator.com.
###