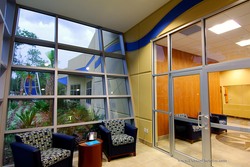 It is an honor to be officially recognized as one of Pinellas County's healthiest buildings. This was a milestone in commercial green building for Clearwater, and we look forward to continuing our commitment to green building in 2009
Clearwater, FL (PRWEB) January 21, 2009
Hallmark Development's first office building at Offices at Park Place in Clearwater, Fla., has been awarded LEED-Gold Certification by the U.S. Green Building Council (USGBC). LEED is the USGBC's rating system for designing and constructing the world's greenest, most energy efficient, and high performing buildings. The Offices at Park Place structure is the first new office building in Tampa Bay to achieve this prestigious recognition.
"It is an honor to be officially recognized as one of Pinellas County's healthiest buildings. This was a milestone in commercial green building for Clearwater, and we look forward to continuing our commitment to green building in 2009," said Paul Engelhardt, Vice-President of Hallmark Development. "We feel strongly about the benefits of green buildings. We just registered our second office building in the park with the USGBC LEED program. It is already 40% pre-leased and we are getting ready to start construction."
The project was completed in partnership with builders The Murray Company and architects Collman & Karsky. The LEED rating system evaluates the building's energy use, lighting, water and material use, as well as its incorporation of a variety of other sustainable strategies. The LEED process also verifies environmental performance, occupant health and financial return. The program was established to encourage market leaders to design and construct buildings that protect and save precious resources while also making good economic sense.
"The green building movement offers an unprecedented opportunity to respond to the most important challenges of our time, including global climate change, dependence on non-sustainable and expensive sources of energy and threats to human health," said Rick Fedrizzi, President, CEO & Founding Chair, U.S. Green Building Council. "The work of innovative building projects such as the Offices at Park Place is a fundamental driving force in the green building movement."
The Offices at Park Place building includes a number of green design and construction features that positively affect building occupants and the broader community. These features include: room lighting that turns off when not in use, cool roof, building positioning to maximize natural light, tinted windows to maximize natural light while blocking heat, low-flow fixtures and water conservation shower heads. Other features include recycled and low-toxicity materials, preferred parking for high-efficiency vehicles and showers for staff members who bicycle to work. The building is home to the global headquarters of TUI Marine.
About Hallmark Development of Florida, Inc.
Hallmark Development of Florida is a diversified real estate development firm founded 43 years ago. It has developed roughly 630,000 square feet of office and service-center space. It owns and operates the Airport Business Center with nearly 160 tenants near the St. Petersburg/Clearwater International Airport on 140th Avenue North in Clearwater. In addition, Hallmark manages several other commercial properties, including Roosevelt Lakes Office Park in the Feather Sound/Carillon area and Enterprise Office Center in the Countryside area, both in Pinellas County. For more information on Hallmark Development, Inc., call (727) 539-7002 or visit http://www.HallmarkDevelopment.net.
About the U.S. Green Building Council
The U.S. Green Building Council is a nonprofit membership organization whose vision is a sustainable built environment within a generation. Its membership includes corporations, builders, universities, government agencies, and other nonprofit organizations. Since UGSBC's founding in 1993, the Council has grown to more than 17,000 member companies and organizations, a comprehensive family of LEED® green building rating systems, an expansive educational offering, the industry's popular Greenbuild International Conference and Expo (http://www.greenbuildexpo.org), and a network of 78 local chapters, affiliates, and organizing groups. For more information, visit http://www.usgbc.org.
About LEED®
The LEED® (Leadership in Energy and Environmental Design) Green Building Rating System™ is a feature-oriented rating system that awards buildings points for satisfying specified green building criteria. The six major environmental categories of review include: Sustainable Sites, Water Efficiency, Energy and Atmosphere, Materials and Resources, Indoor Environmental Quality and Innovation and Design. Certified, Silver, Gold, and Platinum levels of LEED green building certification are awarded based on the total number of points earned within each LEED category. LEED can be applied to all building types including new construction, commercial interiors, core & shell developments, existing buildings, homes, neighborhood developments, schools and retail facilities. LEED for Healthcare is currently under development and is expected to be released in early 2008.
Incentives for LEED are available at the state and local level and LEED has also been adopted nationwide by federal agencies, state and local governments, and interested private companies. For more information, visit http://www.usgbc.org/LEED.
# # #