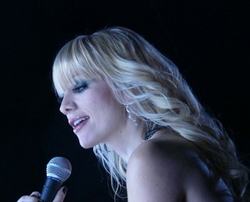 I decided to make my first break-out video for SABRE DANCE for couple of reasons: first of all it's an upbeat and fun song where I was able to do some dancing, play an instrument and portray a character. It's playful, it's eclectic - there's a little bit of dance beat, some rock and a classical sample from the
Los Angeles, CA (PRWEB) January 21, 2009
In an overwhelming sea of Indie Music artists, Sonya Kahn comes to the table as a unique multi-faceted talent with a noteworthy difference. This Vocalist-Songwriter is a musician who can play piano, guitar (acoustic and electric) and arrange, produce, dance and costume design. She has created her own empire of merchandise, has an international fan following and over 735,000 hits on Myspace.com/sonyakahn And she has just released her new single, SABRE DANCE as her break-out music video from her classically inspired, soulful and poetic/anthemic rock-a-phonic CD, NEW BEGINNING - Youtube.com/sonyakahn NEW BEGINNING is a 13-track independent release on Sonya's label Mozarta Muzik and is available on iTunes.com, CDBaby.com and Digstation.com. Make no mistake, this petite dynamo is the real deal. A classically trained artist born in Russia with a Doctorate of Musical Arts Degree in concert piano performing and musical theory, Kahn not only came to America just five years ago, to learn how to speak, write and record in English, she has been performing her entire life.
"I started to play piano when I was three years old, it was my initiation and my mom didn't make me or try to teach me when I was that young. I was accepted to a specialized music school for gifted children at age four. Simultaneously, my sister and I took gymnastic classes 4 times a week, followed by ballet. But I didn't continue because I had to choose between music or dance and I chose music. My schedule was hectic - between my school with a very intense curriculum, studying piano and music, singing in the band, touring (in Europe at the age of six, with the pop group, 'Sunshine') but I continued taking dance lessons. From jazz, contemporary, folk, hip hop and even belly dancing which I continued to learn/studied more when I was in Beirut," states Kahn.
Kahn is a diverse performer. She artistically merges her passion and love for classical music with rock-n-roll in a contemporary way. Overseeing the entire process from original lyrics and production with melodies and hooks that represent her signature music stylings, her sound showcases her cultured background in the arts and her soulful emotion. The making of the SABRE DANCE music video was a long and arduous process. Aside from the typical struggles of an Indie Artist to find enough time to 'do it all' - Kahn not only managed to juggle an intense schedule of rehearsals, choreography, recording, photo shoots and making the video, but she is also working on new project recordings for 2009.
Working non-stop is as natural to Kahn as creating production in her own head. Her driven spirit constantly produces new material, but she is a music education advocate, wanting to bring cherished classical pieces to today's generation of music lovers. "Some people are just not familiar with some of history's finest classical composers like Chopin, Rachmaninov and many others," explains Kahn. Kahn's YouTube channel features these pieces and more and in her single SABRE DANCE, she incorporated additional music culture into her contemporary rock piece. "I decided to make my first break-out video for SABRE DANCE for couple of reasons: first of all it's an upbeat and fun song where I was able to do some dancing, play an instrument and portray a character. It's playful, it's eclectic - there's a little bit of dance beat, some rock and a classical sample from the "Gayane" ballet by Aram Khatchatrian and I didn't change the name of that sampled part - this song carries the original title SABRE DANCE, shares Kahn.
Kahn is also an outspoken activist. She lets her music reach out to further be an extension of the things she thinks about. In 2008 she expressed thoughts on the economic situation, Barack Obama and the new administration promoting change (which she feels is necessary for our nation) and the ever-changing music industry. She also took time to record the song "Whispering Souls" and produce videos addressing the controversial topics of Genocide and anti-war. She created a group called Sonya Kahn's Speak Out Symphony (SKSOS) groups.myspace.com/sksos where she discusses a range of topics like ethics, lifecycles, politics, music and more.
This mindful and articulate artist lets music be her vehicle, and she is the driving force behind the wheel of a very revved up engine - creating, developing and utilizing all of her talents within her musical passion.
"Today, I am grateful and thank my mother who introduced me to many forms of art at a young age and encouraged me to study and learn everything I could, even though I didn't have a normal childhood like any other normal kid playing, socializing and having fun after school…. Looking back - I would change a thing," explains Kahn.
For interviews, bookings, media requests, review copies and more information on Sonya Kahn, contact Stacey Kumagai, Media Monster Communications, Inc. 818-506-8675
Visit Sonya Kahn's Official Website: sonyakahn.com
###