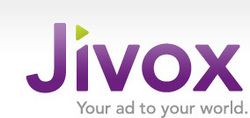 San Mateo, California (PRWEB) January 21, 2009
Jivox, the online video advertising service that helps small and medium-sized businesses reach local customers, today announced continued momentum over the past quarter as more companies discover the power of online video ads to attract local customers. In Q4 of 2008, Jivox doubled its customer base and number of registered users from the previous quarter and reported four-fold revenue growth. Jivox also tripled the number of ad views served on the Jivox Video Ad Network in this quarter.
Summary of key milestones in Q4:

Customer growth: Jivox doubled both its customer base and its registered users.
Revenue growth: Jivox achieved four-fold revenue growth.
Ad views: Jivox tripled the number of ad views served on the Jivox Video Ad Network.
New product features: Jivox released a number of new product features to extend the value of customers' online video ads, including the ability to embed videos on a web site and upload videos to sharing sites like YouTube and local directories such as Local.com.
New partners: Jivox's signed major partnership agreements with companies like Examiner.com, operator of a network of 60 local insider information Web sites; PixelFish, a leading provider of affordable and effective custom video ad solutions; and BigAdda, a leading youth networking web site in India
New brand customers: Jivox engaged with large brand customers for its subsidiary Jivox India, including LG, Sony and Nokia.
"While brand advertising overall has suffered in the face of the economic downturn, investment in online video advertising campaigns has never been stronger, as companies look for new, more cost-effective ways to promote their businesses online. Online video has proven itself as a significantly more accountable and cost-effective form of advertising than many traditional forms of advertising," said Diaz Nesamoney, CEO of Jivox. "We think 2009 is going to be the year online video advertising goes mainstream and makes significant inroads into the world of online advertising, to become a de facto format every business will use to reach customers."
Jivox offers a do-it-yourself local online video advertising service, combining video ad creation tools, proprietary targeting technology and an extensive network of premium local publishers to help companies easily develop high-impact online video advertising campaigns. The Jivox Publisher Network has grown to include over 650 local TV, radio and newspaper websites across the country and now reaches more than 60 million unique viewers.
About Jivox
Jivox helps small businesses reach customers with online video advertising. Jivox provides advertisers with an online, self-service tool to create high-impact video ads using stock footage, images, music or their existing video assets. Jivox ensures high-quality placement of customer ads through the Jivox Publisher Network, a locally focused network of premium publishers that includes hundreds of local TV and radio stations, newspapers, weather and other specialty websites, and offers geographic ad targeting at the city level as well as demographic and contextual targeting. Jivox is a privately held company based in San Mateo, Calif. For more information about Jivox, please visit http://www.jivox.com.
###