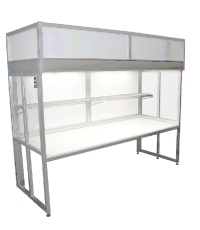 This product allows greater control of the immediate work environment
Burnsville, MN (PRWEB) January 22, 2009
Gerbig Engineering Company, a designer, fabricator and installer of cleanrooms and cleanroom equipment announced the availability of vertical flow clean workstations based on the Envirco line of fan-filter units.
Gerbig incorporates the AireCell line of extruded modular framework allowing custom sizes and ease of handling. The quiet, worry free Envirco fan-filter unit delivers the air. You can select from our certifiable Class 100 unit or the lower cost Class 1000 unit. With this method of construction, sizes may be determined by customer requirements.
"This product allows greater control of the immediate work environment", said Fred Gerbig, President of Gerbig Engineering. "Vertical flow clean workstations provide a clean work area for a specific operation without having to invest in a higher level of clean room."
Since the product can be custom sized, the user has greater flexibility in the lay out and sizing of the total clean room area.
The vertical flow workstation is one of the many cleanroom products Gerbig Engineering has designed and built that increases flexibility and efficiency for the cleanroom user.
Gerbig Engineering is a privately owned company located in Burnsville, MN. The company specializes in designing, fabricating and installing cleanrooms and cleanroom systems, including medical cleanrooms and cleanrooms for the pharmaceutical industries. Products include hard wall and softwall cleanrooms, modular cleanrooms and cleanroom workstations.
###