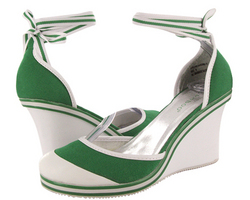 City of Industry, CA (PRWEB) January 23, 2009
It's always a good sign to start each year with vivid and glowing hues that definitely exudes joyfulness and confidence. Despite the economic crunch happening globally, seeing multi-hued and floral patterns everywhere is a definite welcome to the gloomy and ominous mood most people are sporting nowadays.
The holidays are over and everyone should welcome the spring season with bright and lively hues to truly enjoy this time of the year when everything should have a new beginning. Starting with the perfect women's shoes, with the help of MakeMeChic.com, the perfect shopping partner for fashionistas and trendsetters alike when it comes to women's shoes, stylish women's shoes won't be a problem anymore. MakeMeChic.com specializes in trendy women's shoes such as boots, sandals, evening shoes, pumps and booties - all affordable, coming in a multitude of colors, sizes and styles for women's shoes.
This spring, the online fashion retailer of women's shoes introduces new spring styles such as floral patterned wedges, mocassin flats and chunky women's shoes that will absolutely go well with any wardrobe. Also included in the latest addition of the women's shoes specialist spring styles are gladiator espadrilles and platform sandals that will definitely mix and match with ensembles in an assortment of colors that will bring out the brightness of trendy and fashionable women's shoes.
Visit MakeMeChic.Com to see the stylish women's shoes that will certainly be the prized possessions of every true blue fashionista. Don't forget to sign up on their mailing list to always be in the know of the hottest and latest trends in chic women's shoes.
About MakeMeChic.com
MakeMeChic.com is every woman's partner when it comes to fashionable finds. Based in the City of Industry, CA, MakeMeChic.com is an online store that specializes in trendy women's shoes and apparel. With over 50 latest styles arriving weekly, a woman will never be out of style.
###