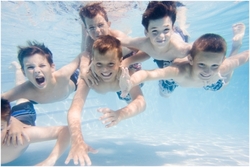 Toledo, OH (PRWEB) January 22, 2009
Emotron Inc., a leading manufacturer of products used to protect and control machines and processes, is pleased to introduce the PSP20. The PSP20 is an advanced solution for swimming pool and spa entrapment - an epidemic which has caused 147 documented incidents and 36 deaths over the past two decades.
On December 19th, 2007, the Virginia Graeme Baker Pool and Spa Safety Act was signed into law by President Bush. The law mandates that in addition to using new and approved drain covers, all public pools and spas with a single main suction drain require a second layer of protection. The law also applies to multiple-drain pools and spas, with drains that are closer than 3' from each other.
Children are most vulnerable to the horrific injuries resulting from pool and spa entrapment. The powerful suction vacuum created by a blocked pool or spa drain makes it virtually impossible for a child to free themselves. If a child is lucky enough to escape, they usually do so with serious physical scarring. Using Emotron's patented M20 shaft power monitoring technology, the PSP20 is able to accurately and reliably detect a fully or partially blocked pool drain; preventing injury or loss of life.
Under the Virginia Graeme Baker Act, the CPSC (Consumer Product Safety Commission) requires that all secondary shut-off systems meet the ASME A112.19.17-2002 standard. The PSP20 not only meets, but exceeds the ASME standard; it is also listed by the CPSC as an approved Automatic Pump Shut-Off Device, and has UL approval.
In addition to meeting important government standards and regulations, the PSP20 also has several unique features, including: no modifications to existing pipe work required, simple installation / set up (typically less than one hour), and availability for single and three phase applications without additional contactors.
Information about Emotron's "Simply Saving Lives" campaign, and important PSP20 documents such as product brochures, technical manuals, wiring diagrams, and product demonstration videos, are available on the Emotron website: http://www.usa-emotron.com. Customers can also find answers to frequently asked questions, place orders via the website, and browse an array of additional Emotron products.
Visit Emotron at the NESPA (North East Spa and Pool Association) show in Atlantic City, NJ from January 27th - 29th, Booth 1946.
###