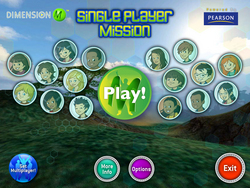 We joined with Tabula Digita, the market leader in development of educational video games, because we shared a vision to align gaming with award-winning math curriculum.
Orlando, FL (PRWEB) January 21, 2009
Millions of students around the country will now have the opportunity to leverage their mastery of video game skills to raise their math scores thanks to a creative partnership between Tabula Digita and the education publisher Pearson. Tabula Digita will create customized versions of its award-winning DimensionM™ educational video games aligned directly to the math curriculum in Scott Foresman-Addison Wesley enVisionMATH, the nation's bestselling elementary math program, and Pearson's two middle school programs, Prentice Hall Math and Connected Mathematics (CMP2).
Announced this week at the 2009 Florida Educational Technology Conference (FETC) in Orlando, the new DimensionM Powered by Pearson games will be available for the 2009-2010 school year. Educators will have the opportunity to sample the DimensionM games and test their math skills in a video game tournament being held this week at the conference.
DimensionM meets today's digital students in the world they live in with a highly interactive 3D gaming format just like other popular video games they play every day. The games take students on action-packed missions in a virtual reality environment that is exciting and motivating - and while they are having fun, kids are learning math and developing critical thinking and problem solving skills.
"Research shows that when kids learn in an engaging, motivating environment with research-based, standards-aligned curriculum, their test scores soar," said Mike Evans, Pearson's senior vice president for mathematics. "What better way to engage young learners than with the video games that they love customized to teach the critical math concepts that they will need to be successful in our 21st century economy?"
Indeed, a study conducted by researchers from the University of Central Florida demonstrated that students who played Tabula Digita video games over an 18-week period scored significantly higher on district math benchmark tests than their peers who did not play the video games.
Tabula Digita CEO and co-founder Ntiedo Etuk said, "We are witnessing a tremendous paradigm shift in the industry. With the Pearson partnership, we now have the world's leading education publisher recognizing the power and potential of these innovations. Educational gaming tools have turned the corner, moving from a niche product to a mainstream tool districts must have to fully engage the 21st century child."
Evans said, "We joined with Tabula Digita, the market leader in development of educational video games, because we shared a vision to align gaming with award-winning math curriculum." He added, "DimensionM perfectly complements Pearson's elementary and middle school mathematics programs including our top-selling enVisionMATH, designed with engaging components that meet our digital kids on their own turf."
Four years in the making, enVisionMATH is a research-based program that blends visual animations and compelling graphic text centered on conceptual understanding and helping students develop their reasoning ability for problem-solving - the critical foundation for higher level math they will need to succeed in college and in their careers. Published in both English and Spanish, enVisionMATH's strong, visual learning design includes a Visual Learning Bridge in each lesson, with step-by-step visuals that bridge the gap between the interactive learning activity and guided practice.
"Together Tabula Digita and Pearson are leading the education industry by incorporating the power of educational gaming and award-winning math curriculum," said Etuk.
About Pearson
Pearson (NYSE:PSO), the global leader in education and education technology, reaches and engages today's digital natives with effective and personalized learning, as well as dedicated professional development for their teachers. This commitment is demonstrated in the company's investment in innovative print and digital education materials for preK through college, student information systems and learning management systems, teacher professional development, career certification programs, and testing and assessment products that set the standard for the industry. The company's respected brands include Scott Foresman, Prentice Hall, Addison Wesley, Benjamin Cummings, PEMSolutions, Stanford 10, SuccessNet, MyLabs, PowerSchool, SuccessMaker, and many others. Pearson's comprehensive offerings help inform targeted instruction and intervention so that success is within reach of every student at every level of education. Pearson's commitment to education for all is supported by the global philanthropic initiatives of the Pearson Foundation. Pearson's other primary businesses include the Financial Times Group and the Penguin Group. For more information, go to http://www.pearson.com.
For more information about Pearson's math curriculum products, visit http://www.pearsonschool.com.
About Tabula Digita
Tabula Digita is an educational video game company focused on delivering innovative and effective educational games to students and institutions. Through its fusion of education and technology-based immersive learning systems, Tabula Digita successfully offers standards-based, high impact educational tools that engage elementary, middle school and high school students in learning. For more information, please call 1-888-9-Tabula or 1-888-982-2852, or visit http://www.DimensionM.com.
Contacts:
Pearson : kate.miller @ pearson.com - 800-745-8489 or lwolfe @ lwolfe.com - 773-227-1049
Tabula Digita: Leslie @ EicherCommunications.com - 314-965-1776
###