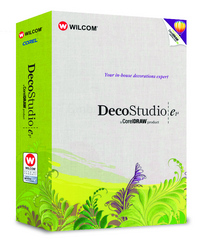 We're thrilled to be able to provide embroidery users with a high-quality program that simplifies the learning process while also providing a well-rounded mix of essential tools and functionality
Ottawa, ON/Sydney, AU (PRWEB) January 22, 2009
Corel Corporation (NASDAQ: CREL; TSX: CRE), and Wilcom International today announced the immediate availability of Wilcom DecoStudio© e1.5, a powerful graphics and embroidery software that enables users to easily produce multi-decoration pieces using screen, embroidery, laser etching, rhinestone, laser cutting, and other techniques.
Combining CorelDRAW® Graphics Suite X4 with Wilcom's innovative stitch processor, lettering, monogramming and appliqué tools, Wilcom DecoStudio e1.5 enables users to effortlessly combine embroidery and print, moving seamlessly between vector art and embroidery elements while keeping everything in one file for production purposes.
"We're thrilled to be able to provide embroidery users with a high-quality program that simplifies the learning process while also providing a well-rounded mix of essential tools and functionality," said Martin Kristiaman, CEO of Wilcom International. 'The new features and resources we've added to DecoStudio e1.5 allow our users to achieve a higher quality result than ever before.'
'Our focus for this release was to look for new ways to simplify the workflow for users and provide them with even more precision tools,' said Gerard Metrailler, Senior Director of Product Management, Graphics for Corel. 'We incorporated better text character conversion when moving from vector to stitch and have given users access to the new and enhanced features available in CorelDRAW Graphics Suite X4.'
Pricing and Availability
Available in English, DecoStudio e1.5 may be purchased through http://www.corel.com and selected distributors worldwide.
Existing users of DecoStudio e1 may register their product to receive the update to DecoStudio e1.5 for only $25USD shipping & handling. Users will be sent a voucher in order to redeem their update. This update will include new software and allow their current hardware key to be used with the new version. Update kits will be available in the early part of 2009.
For more information about Wilcom DecoStudio e1.5, please visit http://www.corel.com or http://www.wilcom.com.au, or visit the Wilcom at booth #1547 at the Imprinted Sportswear Show (ISS) in Long Beach, CA, January 23-25, 2009.
About Corel:
Corel is one of the world's top software companies with more than 100 million active users in over 75 countries. We develop software that helps people express their ideas and share their stories in more exciting, creative and persuasive ways. Through the years we've built a reputation for delivering innovative, trusted products that are easy to learn and use, helping people achieve new levels of productivity. The industry has responded with hundreds of awards for software innovation, design and value.
Our award-winning product portfolio includes some of the world's most widely recognized and popular software brands, including CorelDRAW® Graphics Suite, Corel® Painter™, Corel DESIGNER® Technical Suite, Corel® Paint Shop Pro® Photo, VideoStudio®, WinDVD®, Corel® WordPerfect® Office and WinZip®. Our global headquarters are in Ottawa, Canada, with major offices in the United States, United Kingdom, Germany, China, Taiwan and Japan.
About Wilcom:
Wilcom delivers sophisticated CAD, CAM, machine control and business solutions for customers who specialize in embroidery, rug & carpet design and manufacturing. Over the past 28 years the company's innovative software and hardware solutions have set the standard for design creation, visualization, management and production of textile and custom goods.
Today, Wilcom is present in over 70 countries with products in more than 12 languages. The company is committed to pursuing new and enhanced design tools, streamlining business operations, improving productivity, facilitating closer global supply chain network and opening new possibilities in creativity.
Wilcom is headquartered in Sydney, Australia, and has development and manufacturing facilities in Australia, China and Belgium. Wilcom's sales and support centers are located in Australia, America, China, Japan, Belgium and England, with representatives in almost every country of the world. A complete company history and product suite is available at http://www.wilcom.com.au.
© 2009 Corel Corporation. All rights reserved. Corel, CorelDRAW, Paint Shop Pro, Painter, Corel DESIGNER, WordPerfect, WinZip, WinDVD, and the Corel logo are trademarks or registered trademarks of Corel Corporation and/or its subsidiaries. All other product names and any registered and unregistered trademarks mentioned are used for identification purposes only and remain the exclusive property of their respective owners.
###