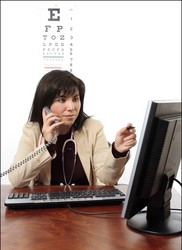 We were losing money as insurance companies and Medicare decreased payments to doctors.
Hermosa Beach, CA (PRWEB) January 22, 2009
Medical Management Corporation is offering an updated program to handle outsource billing needs of physicians, especially in Orthopedics.
The program allows physicians to keep control internally, while letting someone outside the office handle the complicated billing cycles, which updates as new billing issues come on the scene.
For years the CEO of a full-service orthopedic practice resisted outsourcing medical billing for all the usual reasons. He feared losing control of revenue - the lifeblood of his enterprise - and he was certain his operating costs would rise when he hired outside help.
But Bernie Leff, who for 20 years has operated Seaport Orthopaedic Associates (SOA) in New York City, increased cash flow, seized more control and gained a deeper level of comfort by doing the very thing he swore he would never do - outsource billing.
"I don't feel like I gave up control. I feel I have much better control. I don't have to worry when my employees are out sick. And I don't feel the fear. We've sped up the process," he says.
Two events helped change Leff's thinking. First, it was obvious that over the years insurance company billing procedures had grown more complicated, not simpler. This made it more difficult to collect fees, because the degree of knowledge needed to bill correctly had also expanded. "We were losing money as insurance companies and Medicare decreased payments to doctors."
Second, while advising two doctors at a different practice who didn't have the time or revenue to train, oversee and pay an in-house biller, Leff discovered a solution for his own billing dilemma: Medical Management Corporation of America (MMCOA), a 13-year-old firm that had the expertise, 50-member staff and data-sharing system necessary to efficiently assist small and large-scale medical practices.
"I was very impressed. They knew the answers to all my questions. And I didn't know what the questions would be until we got together - there was no sneak preview. They displayed a tremendous knowledge of the billing process. I was impressed with how informed they were," Leff says.
More Control, Less Work
Although he advised his colleagues to outsource their billing needs, Leff needed more assurances before he made a change. After all, SOA is not a two-doc shop. Rather, it is a full-service orthopedic surgery, sports medicine, physical medicine, rehabilitation and pain management practice. Its staff is large and includes some of the top doctors in New York City. Any glitches in billing would cause major headaches and possible seizure of cash flow.
So Leff and his staff traveled to Brewster to observe the billing firm's operation and ask more questions. The conference was led by Alisa Rivera, director of billing operations, and included the firm's founder and owner, Barry Haitoff. Leff recalls a meeting that was "loaded with staff" all of whom were energetic, happy people who knew their trade. "I was wonderfully impressed with their team. We made the decision to bring them in."
The changeover to the new system took six weeks and included frequent meetings, a great deal of data sharing and lots of in-house consultation. Leff never looked back and today he is very pleased that he took the leap of faith: the billing system is working well and has solved a myriad of problems.
"I feel right now I have much better control. The reason is they have an incredible system with excellent reports. Any time we want to research an area, they can develop any report I want. And they are very cooperative about coming down. They continue to supply us with all the help and expertise we need. I don't have to train people and interview people or watch them. This is the way to do it with the right company."
Rivera said her firm can save doctors money because service fees are tied to collections. The fees only go up if a medical group's collections rise. Also, the firm can help physicians leave those insurance plans that may be economically harmful. "Sometimes physicians are considering opting out of insurance networks or participating with a new insurance plan, and they need consultation about rates and general directions in the industry. We offer assistance so that changes are not traumatic events that cause decreases in cash flow."
Money Left on the Operating Table
Dr. Peter D. McCann, chairman of the Department of Orthopaedic Surgery of Beth Israel Medical Center in New York City, says he has used various billing firms for his private practice. He prefers Medical Management because the fee structure will always be directly proportionate to money coming in. This is critical because physicians have only two methods of remaining profitable - increase revenue and decrease expenses. Therefore, doctors may save money by cutting the salaries of employees who may lack the expertise needed to do the billing correctly.
All of which leads to another compelling reason for outsourcing billing: many doctors don't know how much money they are leaving on the table. "If a doctor doesn't realize how much he is leaving on the table, he won't know how much more he can get," says McCann.
But patience is necessary when changing medical billing methods. "Yes, cash flow improves. Based on experience, it takes a minimum of three to six months before you see changes," says McCann.
Also, hiring a billing firm does not mean doctors can ignore fiscal responsibility. McCann insists a doctor must never abdicate complete control or he'll soon lose perspective. "Partnering with Barry's firm is not losing control. This is a partnership. The surgeon knows more about the procedure than any billing company. Unless the surgeon is involved you will not maximize collections."
Staying on top of things need not be time-consuming, however. "They need to look at the business profit and loss statement to be sure they're maximizing their monthly charges. I can guarantee if you don't take five minutes each month to do this, you're definitely losing money," says McCann.
Fear of change may be another reason why some physicians don't outsource billing, even though they are unhappy with their present situation. After all, doctors must share more than data. For example, when patients have questions about billing they are referred to the billing firm. How the staff of that firm treats clientele is an important part of a doctor's success. But this is of no concern to McCann, who says Medical Management's interaction with patients is always, "direct, appropriate and complete."
Haitoff sympathizes with the tough choices medical groups and individuals must make regarding medical billing. "If they change, they don't know what they'd get, so they stay with a sub-par in-house service. That means doctors often won't reach out until he or she is feeling pain - a key biller just quit or the computer system crashed. Pain equals change. Our job is to find those doctors before the meltdown."
For more information, contact Medical Management Corporation of America by writing 1620 Route 22, Brewster, NY 10509; Phone: 888-323-8823; Fax: 845.278.9022; or visit http://www.mmcoa.com
Douglas Glenn Clark is a business writer based in Los Angeles, California
###