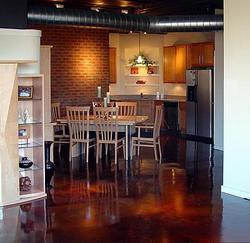 Yucaipa, CA (PRWEB) January 23, 2009
No concrete floor would be complete without the application of a decorative concrete stain. With so many types of stains and product manufacturers to choose from, the process of choosing the right stain product can be difficult. ConcreteNetwork.com offers an updated concrete stain buyer's guide with tips on purchasing the right type of stain, along with overviews of stain types, their uses, application tools and much more.
After resurfacing an existing concrete floor or installing a new concrete hardscape, there's no need to stop with a boring, gray surface. Contractors can now offer their clients a world of color through concrete stains. Newer products on the market, such as water- and solvent-based dyes, are greatly expanding the palette with colors ranging from soft pastels to vivid reds, oranges, yellows, and purples. In some cases, these newer stain products are easier and safer to apply.
The guide offers contractors detailed descriptions of the two widely available stain types on the market. They include: acid-based stains and water-based penetrating stains. The guide also covers two other helpful products, water- and solvent-based dyes, and gels and thickeners, which are commonly used in conjunction with stains, in order to achieve a desired effect.
Both stain types work at penetrating the concrete surface that they are applied on to produce permanent color, ranging from translucent to opaque depending on the product.
For more detailed information on the benefits of decorative stains for concrete floors and hardscapes, and their functions, visit The Concrete Network's concrete stain supplies section for more extensive articles.
Read more about concrete products.
Established in 1999, The Concrete Network's purpose is to educate consumers, builders, and contractors on popular decorative concrete techniques, applications, and products. This includes concrete stains, equipment, sealers, tools, and materials. Now in its 10th year, The Concrete Network Website had over 10.2 million visitors in 2008 researching decorative concrete.
The site excels at connecting contractors with concrete products suppliers through its Concrete Product Directory Concrete Products service. The service provides visitors with a list of decorative concrete manufacturers throughout the U.S. and Canada, as well as local decorative concrete supply stores.
Photos courtesy of Decorative Concrete Institute.
###