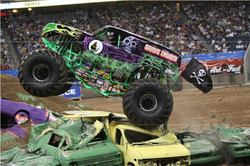 The fans just really get into this event. Families come out and get a great show here, it's just an energy packed night
Los Angeles, CA (PRWEB) January 23, 2009
Over 50 thousand spectators welcomed their favorite monster trucks as they rumbled into the stadium. Each truck had won its way to this final event after 250 performances in over 100 of the top competitions across the continent.
1-800-THE-LAW2 donated tickets on local radio stations KGGI and KDAY for listeners and their families. And had several raffles and give-a-ways where event goers won prizes like DVD players, t-shirts, lunch totes and key chains.
This is one of the most exciting events 1-800-THE-LAW2 participates in all year because the energy and excitement of Monster Jam is unmatched! "The fans just really get into this event. Families come out and get a great show here, it's just an energy packed night," said Sponsorship Coordinator Amanda Judge. Photo Courtesy of http://www.monsterjamonline.com
"These events are so fun, and that's why we've been sponsoring Monster Jam for the past 8 years since it began. It's also a great outlet to remind the fans to be cautious on the road, because real accidents aren't fun." said Walker and Walker Legal Network CEO Maryann Walker.
1-800-THE-LAW2 reminds all Monster Jam fans to drive safely and call 1-800-843-5292 after an accident.
About the Walker & Walker Legal Network:
As part of the Walker & Walker Legal Network, 1-800-The-Law2 is a group of independent attorneys who specialize in personal injury, workers compensation, slip and fall, foreclosure and mass tort cases. At no cost to the client, these legal professionals joined together to advertise their services and help those who could not otherwise obtain an attorney.
###