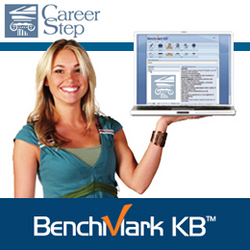 Springville, Utah (PRWEB) January 29, 2009
Career Step is pleased to announce a partnership with InterFix to use BenchMark KB (Knowledge Base), the industry's first application designed to increase the quality and speed of medical transcription through the use of a centralized, standardized electronic health information resource. This product is available to all new students as part of their training package beginning in January of 2009.
Medical transcription is a career requiring constant verification of facts, terminology, dosages, values, names, drugs, and much more. Since most transcriptionists are paid based upon production, time spent searching through resources is time spent not transcribing and thus, not being paid. With Benchmark KB students will have access to all of these resources in one place. And unlike print materials, KB resources are automatically updated so students never have to worry about the accuracy of the information. The KB was created to save time and effort, which translates to efficiency and increased pay. Career Step is proud to offer this useful resource to their students in a continuing effort to provide the tools and skills they will use in their workplace.
Another benefit for students is an electronic membership in The Association for Healthcare Documentation Integrity (AHDI), the world's largest organization working to advance health data capture and documentation by setting standards for education and practice in the field of medical transcription/editing. That means Career Step students have access to professional development tools, credential testing, the Professional Practices Network, and the HealtheCareers Job Bank. Students also have access to limited AHDI Help Desk functions.
This partnership is designed to take students from their studies through to their career as a medical transcriptionist, and beyond. Thanks to the new partnership between InterFix and Career Step, new students receive free access to BenchMark KB with their training, and existing Career Step students can obtain the KB at a discounted price. This new resource is sure to make navigating the volumes of medical information much easier for students and make their Career Step studies and their careers in health information successful.
About Career Step
Career Step is the nation's leading provider of online medical transcription and medical coding training placing over 85% of graduates in a rewarding career within two months of graduation. With a proven and proprietary online education platform, Career Step is positioned to lead the worldwide allied healthcare industry in training and assessment. Visit http://www.careerstep.com.
About BenchMark KB
BenchMark KB is a complete set of web services that brings together an extensive collection of online medical transcription reference materials into a single application, with real time updates to keep students up to date on terminology and reference data. Unlike the loose, independent resources you may be using now, the KB offers everything from a medical dictionary to a lab values database all consolidated and available at your fingertips. Developed by the domain experts at the Association for Healthcare Documentation Integrity (AHDI) and transcription industry technology veterans at InterFix, BenchMark KB marks a new standard in health data quality.
BenchMark KB is the first application that sets universal health data quality standards and deploys them to the workstation level, integrating them into the document creation process. BenchMark KB is a browser-based application that sits alongside any transcription or coding application. It is a portal, or single access point, to the up-to-date medical resources needed to create consistent, high-quality health documentation, including:

The medical reference library from Stedman's in a single user interface
A continuously updated national physician and dentist database (1 Million + names)
Quality alerts library to highlight common transcription style errors, including Joint Commission and ISMP dangerous abbreviations and recommendations
Annual electronic membership to AHDI
AHDI Book of Style electronic version 3 in searchable format
Extensive database of 250+ normal lab values
FAQs from the industry experts at AHDI
To learn more about the BenchMark KB, please visit http://www.interfix.biz.
###