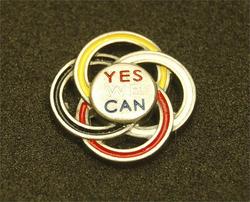 Sarasota, FL (PRWEB) January 29, 2009
Paul Dangler, President of Our Common Ground, introduces a newly designed lapel pin as inauguration souvenirs intended to embody the definition of cultural diversity and the capture the spirit of Barack Obama's "Yes We Can" speech of acceptance. With these inspirational words in the center and the interlocking red, yellow, white, and black circles encompassing them, Dangler used these current symbols of unity to demonstrate the spirit of cooperation and multicultural diversity.
"The passionate Presidential Campaign, John McCain's concession speech and Barack Obama's acceptance speech were inspiring. Seeing the vast and emotional crowd at Grant Park pushed me over the edge. I saw the future, the emotion and commitment in people's eyes, and I had to do my part. Blessed with an experience in jewelry making technology and in creating meaningful symbols of unity, my duty became clear. Pencil met paper, models were carved and prototypes created. In the end the perfect version emerged. The essence of all our people joining together in a renewed spirit of patriotic cooperation became real," says Dangler of the inspirational pendants.
These collectible lapel pins are priced from $9.95 and are available in a variety of gold and silver metals. They can not only be worn as collar or lapel pins with their unique magnetic clasp, but are also available with neck chains to be worn as pendants and are easily attached to charm bracelets.
"The new symbol of the 'Yes We Can' spirit should be seen as a badge of honor. This is not just another collectible to tuck away in a drawer. Put it on and wear it. Be a beacon of light for this new dawn. As many come to wear it we will recognize each other as the new patriots. These are the people that take responsibility and say Yes I Can to Yes We Can," says David Ramirez, Director of Brand Development.
The lapel pins as Obama jewelry signify this historical era for cultural diversity in America. For more information on the inspiration behind their design or to order this patriotic jewelry, visit OurCommonGround.US.
About Paul Dangler and Our Common Ground:
Paul Dangler has gained a reputation for producing meaningful and romantically symbolic diamond jewelry. These brands are sold in fine jewelry stores all over the country.
The emotion and excitement of the Presidential campaign and the emphasis on cultural diversity in America made it clear that a symbol was needed to show the unity embraced by its citizens. Our Common Ground was born to develop this message and expand it through the creation of the jewelry.
###