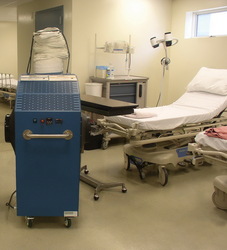 is a good solution for hospitals' emergency preparedness plans because it deploys quickly and easily and saves the time and expense of undertaking building modifications or installing permanent isolation rooms that may otherwise have very limited use
Syracuse, NY (PRWEB) January 26, 2009
A portable contamination control unit developed by Air Innovations is designed to help hospitals, clinics, extended care, and disaster centers quickly expand their ability to handle surge capacity for isolation, trauma and burn care as well as increase their preparedness for pandemic influenza.
"IsolationAir® rapidly deploys to create negative or positive pressure, improve air quality around patients and staff, and provide for patient and staff comfort by controlling temperature and humidity in the room," explained Air Innovations President and CEO Michael Wetzel, P.E. "Because the unit wheels into place on an as-needed basis, plugs into 110-volt power and requires no tools for installation, it easily converts any standard-sized room--from health care to hotel to military base--into an isolation room for emergency services."
The patented unit meets or exceeds specifications for isolation space established by the Centers for Disease Control and Prevention, American Institute of Architects, and the American Society of Heating, Refrigeration and Air Conditioning Engineers.
The unit uses known and accepted technologies for filtering and purifying the air, including highly efficient HEPA filters and ultraviolet germicidal light. When used to create negative room pressure, the unit will help prevent the escape of infectious diseases and reduce cross-contamination risks to hospital personnel and other patients. When used to create positive room pressure, the unit will help prevent airborne particles from infiltrating the isolation room and infecting immuno-compromised patients. In addition, IsolationAir will isolate the patient's room from the building's central system to reduce cross-contamination risks as well as continually operate when plugged into a room's emergency generator outlet.
To expedite installation, IsolationAir features ceiling adapters sized to fit standard 2 x 2-foot return or supply air grilles, flexible ducting to make the connections, and snap on/off duct connectors and covers. On-board electronic controls track unit performance. All required accessories are attached to the unit or accessible in slide-out trays.
The unit, which is designed to condition spaces up to 375 square feet (and assuming an eight-foot ceiling), "is a good solution for hospitals' emergency preparedness plans because it deploys quickly and easily and saves the time and expense of undertaking building modifications or installing permanent isolation rooms that may otherwise have very limited use," Wetzel said.
According to the U.S. General Accounting Office, there is a shortage nationwide of quarantine and isolation facilities, and most hospitals in the United States are not prepared to deal with a sudden, large influx of patients such as would happen with a SARS outbreak, bioterrorism attack or other mass casualty event.
Air Innovations, headquartered in Syracuse NY since 1986, designs and manufactures specialized environmental control solutions for the health care, cleanroom, pharmaceutical and homeland security industries. For more information on IsolationAir, call Air Innovations at 800-825-3268, or visit http://www.airinnovations.com.
###