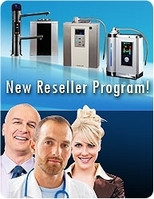 We are extremely pleased to be able to offer this program to our existing resellers as well as new people that are joining us daily. We are able to provide efficient communication and support to our team of LIFE Dealers™ that are starting to spread throughout North America, Europe and the rest of the globe as well
Carlsbad, CA (PRWEB) January 24, 2009
Life Ionizers™ announces their new reseller program for physicians, health care practitioners, water industry experts and others interested in capitalizing on the growing field of water treatment and alkaline, ionized water for residential and commercial use.
The LIFE Dealer™ reseller program offers the independent representative an opportunity to sell the industry leading #1 alkaline water ionizer with a pre-filtration system customized for each home or commercial location based on the water report from the water district servicing that location. LIFE Dealers™ earn an industry best profit margin as well as have the opportunity to build a team of representatives in their local area, across the country, or throughout the world.
The LIFE Dealer™ program is supported by a team of technical experts, top notch dealer support personnel and a state of the art web-based business system so the LIFE Dealer™ can operate their business from virtually anywhere.
"We are extremely pleased to be able to offer this program to our existing resellers as well as new people that are joining us daily. We are able to provide efficient communication and support to our team of LIFE Dealers™ that are starting to spread throughout North America, Europe and the rest of the globe as well", said Dale Guiducci, Vice President of Business Development and General Manager.
Water ionizers turn ordinary tap water into ionized, alkaline water by delivering a strong electrical current to the water. This process, known as electrolysis, separates the water into two streams: alkaline mineral water for drinking and acidic mineral water for the skin, and for cleaning and sanitizing. This process also breaks large clusters of water molecules into "micro-clusters" that are readily absorbed by tissues and cells, leading to better hydration at the cellular level.
The ionized, alkaline water has an abundance of negatively charged ions. Once absorbed into the system, these negatively charged molecules are attracted to positively charged free radicals, which are linked to aging and disease. When the two meet, they exchange electrons and bond. This process neutralizes the free radicals and prevents them from causing cellular damage.
About LIFE Ionizers™
The International Headquarters are in Carlsbad, California with offices in Canada and the United Kingdom. LIFE Ionizers™ has been a leading supplier of home, commercial, industrial and agricultural water ionizers since 1996. For more information about the LIFE Dealer™ program please visit http://www.MyLifeDealer.com/alkaline or call 1-800-578-5939.
###