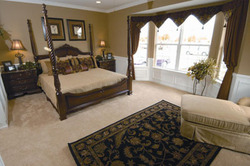 Utilizing videos as the primary tool to help sell homes over the web offers so many advantages over just displaying listings and links
Elburn, IL (PRWEB) January 28, 2009
The current buyers' market is presenting its own challenges to sellers and buyers in Chicagoland. The newly launched, video-based YourNewHomeChicagoTV.com is designed to help sellers gain the competitive edge and let buyers more efficiently sift through the many options in new home construction in Chicago.
Visitors to YourNewHomeChicagoTV.com gain immediate entrance to many new homes in Chicago as they watch guided tours from the comfort of their homes. The approach makes sense, according to the designers of the website, as video use on the Web has grown dramatically. Using the medium provides a convenient way for buyers and builders to connect online, given its marketing muscle and immediacy.
"Utilizing videos as the primary tool to help sell homes over the web offers so many advantages over just displaying listings and links," company president Shawn Longson explains.
In this buyers' market, competition is fierce for sellers and a glut of options can be overwhelming for buyers. With YourNewHomeChicagoTV.com instantly providing details, shoppers will be inclined to use this resource as it allows them to easily evaluate multiple new home communities and custom luxury homes, Chicago and beyond.
"Current conditions in the new home market are rapidly altering how homes are being marketed. We are focusing on carving out a niche that will address that need for change," explains Longson.
This niche service provides benefits in addition to videos that feature new home construction in Chicago. Visitors can shop by product or by location, sorting videos according to their preferences. Once a buyer targets a home, he or she can print up an information page, email the builder, find out area information and get directions to the property.
The website also serves as a hub for such peripheral industries as landscaping and interior design. Additionally, videos are being added that act as guides in areas such as lawn care, pools, and more. Whether a buyer is looking for a new home in Bolingbrook, Naperville, Aurora or other areas in Chicagoland, they can bookmark the site and use it as a resource later on as they settle in their new environs.
Visit the website to find out more about selling or buying new and luxury homes in Chicago and outlying suburbs through YourNewHomeChicagoTV.com.
About YourNewHomeChicagoTV.com:
Videos for this website are produced by Benjamin Ryan Productions, LLC, the company behind YourNewHomeChicagoTV.com that lets viewers tour new and luxury homes. Chicago new construction builders Joe Keim Builders, Ryland Homes, Lennar, Bigelow Homes, KLM Builders, Buschman Homes and others are featured on the site and can be contacted directly. New to the Chicago marketplace, the site is in the early stages of content development. New videos are being posted weekly.
###