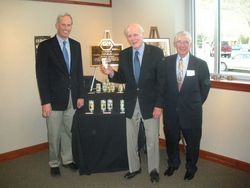 Over the following 25 years, aluminum would eventually replace steel as the material of choice, and cans would replace bottles as our favorite containers
(Vocus) January 24, 2009
Let us toast a technological innovation that's as near as your refrigerator: The production of the first seamless and recyclable aluminum can has been celebrated as an Historical Landmark of ASM International, the materials information society.
The award commemorates the CoorsTek facility in Golden as the site where the first aluminum can was produced under the direction of William K. Coors, Joseph Coors and colleagues 50 years ago, on Jan. 22, 1959. This invention revolutionized the beer and consumer packaged goods industry and spurred recycling efforts nationwide. "We are proud to be a part of history and the recycling revolution that resulted from this innovative aluminum can invention," Pete Coors, chairman of MillerCoors, said.
In 1957, William K. Coors (Bill), who at the time was president of Adolph Coors Company, began researching with his staff engineers, the feasibility of a recyclable aluminum container for beer. At the time, beer was packaged in tin containers that not only gave beer an aftertaste, but also resulted in an environmental issue due to waste. Aluminum allowed the company to deliver fresher tasting beer to consumers without needing pasteurization and was 100 percent recyclable.
"Over the following 25 years, aluminum would eventually replace steel as the material of choice, and cans would replace bottles as our favorite containers," said George Krauss, past president and Honorary Member of ASM International, who presented the ASM Historical Landmark award.
Remarks by Prof. Krauss, university professor emeritus at Colorado School of Mines, during the presentation of the ASM Historical Landmark Award on Jan. 22, 2009.
It's a privilege for me to represent the officers, Board, and worldwide membership of ASM International today. I'm pleased today to be joined by my fellow ASM members from the Rocky Mountain Chapter: District Representative Stephen Liu and Chapter Secretary Juan Carlos Madeni. All three of us are also proud to represent the Colorado School of Mines.
First, I'd like to provide some background about the ASM Historical Landmark Award itself. The purpose of this award designation is to preserve our materials heritage, and to make people all over the world more aware of the many pioneering milestones of metalworking and materials technology.
The first ASM Historical Landmark Award was presented in 1972, marking the site of the first Heroult-type, electric steel-making furnace in the Western Hemisphere. In the 36 years since then, a total of 119 Historical Landmarks have been named, including the site we honor today.
We honor an achievement for a significant application that plays a part in our everyday life. The two-piece aluminum beverage can got its start, right here, on this date 50 years ago.
Back in the day, a can of beer was made of steel. There were two basic designs, dating back to the 1930s. One had a top that looked like the Tin Man's hat; it was cone shaped. They were made that way so that breweries could fill them on their standard bottling lines.
The second type was the flat-top can. Those first cans needed an opener with a sharp point to puncture the top in two places. Due to their size, those heavy openers were known as "church keys."
Until the dawn of the Space Age, steel flat-tops were how Americans bought much of their beverages. Then came the revolution of 1959. That's when the two-piece aluminum beverage can made its commercial debut right here at Coors Brewing Company.
You don't have to be a metallurgist to appreciate the benefits of aluminum. For example, did you know that an aluminum can chills faster and stays colder than any other beverage container? That it's lighter and easier to package and carry than steel? And that it's the most recycled drink container in the world?
Once Coors showed America how to do it, the era of aluminum beer cans began. Over the following 25 years, aluminum would eventually replace steel as the material of choice, and cans would replace bottles as our favorite containers.
As brewers began making their own cans on-site, technological innovation would make the cans even better. The pull-tab was invented during the early 1960, and eliminated the need for a church-key opener. Cans that were welded at the seam gave way to the seamless, extruded (and later, drawn and ironed) cans that we have today.
Perhaps most significant of all, the aluminum can is the only packaging solution that is 100 percent recyclable. More than 50 percent of all aluminum cans in the U.S. get recycled, saving energy and minimizing waste. In fact, the weight of the 1.7 million pounds of aluminum cans recycled in 2001 was equal to the weight of 14 aircraft carriers!
Let me say again that it is an honor for us at ASM International to honor CoorsTek for what was achieved here, and for helping to quench the thirst – in a responsible way - of generations of Americans.
Let us raise our aluminum cans and celebrate the ASM Historical Landmark citation, which reads: "At this site on January 22, 1959, the first aluminum beverage can plant produced its first can, under the direction of William K. Coors, Joseph Coors and colleagues." To these words, may I offer the congratulations of the members, officers and staff of ASM International.
Headquartered under its renowned geodesic dome at Materials Park, Ohio, ASM International is "Everything Material," the materials information society serving the worldwide materials science and engineering community. ASM's membership of 36,000 scientists, engineers, researchers and students work with materials and applications that advance technology, improve product performance and have a positive effect on the way we live. For information, visit http://www.asminternational.org.
###