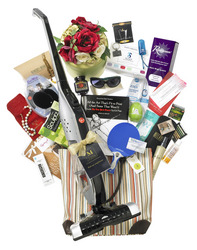 Washington, DC (PRWEB) January 26, 2009
The Supreme Court of the United States received their order for Ear Mitts® just in time for the frigid temperatures at the presidential inauguration and parade on Tuesday. And celebs at the Creative Coalition Inaugural Ball also were delighted to discover a pair of Ear Mitts® in their VIP Gift Bag so their hair would be no muss, no fuss that evening. For more information, log onto http://www.earmitts.com.
Finding a hat to match the judge's robe or a VIP's overcoat isn't necessary with Ear Mitts® available in every fabric and color.
Whether a parade participant, spectator, or inaugural ball VIP, don't leave home without Ear Mitts® in each pocket. These unique bandless ear muffs are perfect for any outdoor activity.
Essential for men, women and children, Ear Mitts® are made with anti-pill fleece and lined with 100 gram Thinsulate™ Insulation with Recycled Fibers that will keep the warm air in and the cold and wind out. And the sound of the parade band won't pass by unnoticed because Ear Mitts® will not affect the ability to hear.
For all those officials protecting the spectators and participants at the parade, Ear Mitts® are perfect with all types of headgear to keep ears toasty! Any type of ear bud can be used as well by easily fitting up under Ear Mitts®.
Ear Mitts® are small and easy to wear with a uniform or while just sitting in the stands. Be sure to keep a pair in each overcoat pocket for the evening out.
Simply flip them open, slide one onto each ear, and press against the head to close. They're comfortable and convenient -- Ear Mitts® can be toted effortlessly in any jacket pocket or backpack when not worn.
Ear Mitts® are available in Black Fleece to match every Supreme Court robe or in Black Mink Faux Fur for the gala evening. The patented bandless ear muffs are also perfect for all occasions in a plethora of colors and fabrics.
Ear Mitts® cost $15 and can be ordered on Amazon.com (search Ear Mitts) or call 1.800.439.0883. For more information, log onto http://www.earmitts.com.
Contact:
Brad Levinson
Ear Mitts® Bandless Ear Muffs
1.214.353.0882
# # #