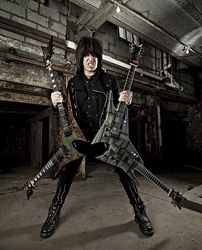 No. 1 Shredder of ALL TIME
Gurnee, IL (PRWEB) January 26, 2009
Michael Angelo Batio is proud to announce the release of two new Michael Angelo Batio signature guitars from Dean Guitars of Tampa, FL. The MAB2 "Aviator" and the MAB1 "Lazer" debuted at the NAMM's (International Music Products Association's) annual 2009 convention in Anaheim, CA on January 15. The first 150 of each new model will be hand-numbered and autographed by Michael Angelo Batio. The Dean MAB2 Aviator and the MAB1 Lazer will be available for purchase from Dean dealers beginning this spring. Michael's first Dean signature guitar was released in 2008 as the MAB1 "Armorflame." Amongst the many current owners of the MAB1 guitar, notable guitarist Chris Caffery of Trans-Siberian Orchestra ("TSO") used an MAB1 live, onstage throughout his North American holiday tour. During TSO's 2008/2009 trek across North America, they performed to an estimated 1.5 million fans.
Dean Guitars has commissioned world-renowned guitar luthier Mike Lipe of Sun Valley, CA to create another Dean "Double-Guitar" which Michael will use while performing live throughout 2009. The Double-Guitar is Michael's invention and trademark. Additionally, a new Dean "Quad-Guitar" is being crafted for Michael's use on tour in 2009. The Quad-Guitar is a four-necked guitar of Michael's invention. This guitar will replace his original Quad-Guitar which was stolen during a subsequent tour.
Michael is pleased to announce he has received a full US patent for his "MAB String Dampener". The current MAB string dampener model is available exclusively via his web site at http://shop-angelo.com/
Other MAB string dampener models are being planned for production and distribution by various vendors.
Guitar World magazine continues to feature Michael Angelo Batio in their column "Time To Burn". Michael's tenure as a columnist with Guitar World is unprecedented, having the longest running column in the periodical's history. Michael's informative and insightful column for guitarists is also available on DVD for premiere subscribers.
Michael recently released the newest in a long-line of acclaimed instructional guitar DVDs. His newest endeavor, "Speed Lives 2", features the song "Hands Without Shadows" released in 2005. "Speed Lives 2" was produced by Doug Marks' Metal Method, the world's foremost leader in guitar instructional video and guides.
Michael is a featured artist in Mark Tremonti's (Creed, Alter Bridge) brand new, first-ever instructional DVD entitled "Mark Tremonti: The Sound & The Story". Further information, including a trailer and order page is located at: http://www.fret12.com/
Looking forward, Michael has set September 2009 for the release of his new solo instrumental CD tentatively dubbed "Hands Without Shadows- Volume II". Also scheduled for release in 2009 will be two new Michael Angelo Batio DVDs: "Speed Lives 3" featuring instruction for the song "The Finish Line" and Michael's taped, sold-out performance at the Simi Valley Cultural Arts Center in Simi Valley, CA on July 9, 2008.
In 2009, Michael will introduce eight new clinic tracks during his live performances. Michael continues as Dean Guitar's premiere endorser and clinician having performed over 100 clinics worldwide in 2008.
Michael's 2009 touring schedule, including news and updates, are available at http://www.deanguitars.com and http://www.angelo.com
The Michael Angelo Batio Street Team is pleased to announce that it will be hosting a live online chat with Michael Angelo Batio on Feb. 2, 2009 at 9:00 PM EST. To become a member of the MAB Street Team, please visit: http://michaelangelobatio.fancorps.com/
Current MAB ST members will simply login and follow the prompts to participate. Space will be limited for this exclusive event.
Michael Angelo Batio music, DVD's, String Dampener, and merchandise is available via M.A.C.E. Music at http://shop-angelo.com/
About Michael Angelo Batio:
Michael invented and was the world's first player of the twin-necked, left and right-handed Double-Guitar. He plays the guitar right or left-handed. He also plays both guitars together in harmonies or two separate parts together at the same time. Michael invented the "MAB String Dampeners" that he uses on the Double-Guitar. Michael has a patent on the MAB String Dampeners. Michael invented his signature stage move called the "MAB Over-Under" technique. Before starting his own record label "M.A.C.E. Music" 1993, Michael had received two major label record deals. M.A.C.E. Music continues its success since becoming one of the first music companies to go online beginning in 1996. Guitar One Magazine voted Michael the "No. 1 Shredder of ALL TIME" in their April, 2003 issue. The November, 2003 issue of FHM Magazine named Michael Angelo Batio and his 'Quad' guitar http://www.angelo.com/html/the_quad_guitar.html one of the "Top 50 most outrageous moments in rock history". The January, 2004 issue of Guitar World Magazine named Michael Angelo Batio's "Speed Kills" DVD one of the "75 Essential Guitar DVD's". The March, 2004 issue of Guitar World Magazine named Michael Angelo Batio one of the "Top 100 Greatest Metal Guitarists of All Time".
Michael started playing piano and composing at age 5 and started playing guitar at age 10.
Michael started as a session guitarist when he was 19 years old. He has recorded TV, radio and industrial film music for: Burger King, Pizza Hut, Taco Bell, KFC, United Airlines, United Way, McDonalds, Beatrice Corp., and the Chicago Wolves hockey team among others. At 14 MAB was playing Jazz and by 15 won the Chicago-based "All-State Jazz Solo Award" for outstanding Jazz soloist on guitar.
Michael Angelo Batio is from Chicago and has a B.A. in Music Theory and Composition from Northeastern Illinois University.
Michael Angelo Batio uses Dean guitars exclusively, T-Rex pedals, and Dunlop picks.
Hands Without Shadows ® is a registered trademark of Michael Angelo Batio and M.A.C.E. Music
HWS is a trademark of Michael Angelo Batio and M.A.C.E. Music
Assume The Shred Position is a trademark of Michael Angelo Batio and M.A.C.E. Music
Contact: Drew Christoffel DrewC67 (at) AOL.com for M.A.C.E. Music: 262-942-1193
###