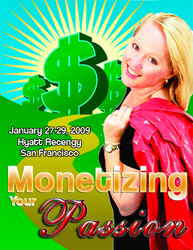 Spirit of Women In Consulting
San Francisco, California (Vocus) January 25, 2009
With the unemployment numbers here in California screaming toward 10%, Bay Area workers are sitting on the edge of their seats wondering if they're going to be next. We can focus on the bottom dropping out, or we can look for the golden opportunities that exist in any economic crisis. If you look back, it was the entrepreneurs who led the way out of the Great Depression, creating more millionaires than at any other time in history. Now it's our turn to beat that record!
Discover how easy it really is to find profitable revenue streams doing what you love to do at the Monetizing Your Passion Bootcamp at the San Francisco's Hyatt Regency Embarcadero from January 27th through the 29th. This unparalleled three-day entrepreneur education bootcamp is being offered at a one-time only price of $295.00 and individuals who have been laid-off after December 1, 2008, can attend FREE with proof of termination – registration info below.
Presented by Adryenn Ashley and "Wow! Is Me" you'll learn from top-notch entrepreneurs, social media gurus, and product development and marketing experts exactly how to rapidly create revenue. These revolutionary entrepreneurs have taken their companies from concept to millions along non-traditional routes. Now you can take home a step-by-step game plan to apply those concepts to your business! Topics include:

Easy techniques to identify and monetize your passion
Fast personal branding tactics that get attention
Simple three sheet business plan that attracts investors and partners Streamline success with cutting-edge business processes
Identify and attract your best customers NOW
Attracting Joint Ventures that generate extra sales and expand your business
Identifying passive streams of income you can "fix and forget"
Marketing short cuts that save you time and money
The 7 Benefits: What your customers want to hear
Quickly create your database with the latest best practices and shortcuts
Social Networking: Discover the why, how and when of Facebook, WordPress Blogs and Twitter from top experts
Creating and distributing viral videos to drive immediate awareness of your business
Simple strategies to turn 2009 into the best year of your life
Meet and mingle with other Bay Area entrepreneurs and get this party started right!
The Monetizing Your Passion Bootcamp is an unparalleled entrepreneurial opportunity to learn from successful business men and women who have created business from nothing based on a personal passion and includes a manual, worksheets, activities, networking, tools and tactics to propel your business beyond mere profitability.
To support the Bay Area entrepreneurial spirit and help us continue to lead the nation as the best place for start-ups, Wow! Is Me has secured a select number of sponsored tickets for those recently laid off workers who are ready to create their own opportunities. Register at the website below using the discount code "newstart". You must present your employer's termination papers on-site to complete your Scholarship registration.
To order tickets, please visit http://myp.eventbrite.com - For more information or to schedule an interview, please contact Jodi Johnson, at 415-235-3880.
Media Passes are available. Register at the above website using "MediaPass" as the discount code.
Speakers Available For Interview:
Tuesday –
Adryenn Ashley (available all 3 days) is an award winning filmmaker, parallel entrepreneur (as in simultaneous multi-brand launches) and unabashed author who achieves the impossible: using laugh-out-loud humor she delivers essential business and legal information so effectively, you actually get it! A Certified Divorce Financial Analyst, Certified Asset Protection Specialist, and Forensic Accountant, Ashley breaks down complicated issues, empowering women to take crucial steps toward their own monetary health. As an actress she is used to transforming herself and others into riveting onscreen characters. Now she uses her well honed techniques to transform everyday entrepreneurs into wildly successful business celebrities.
Mike Michalowicz (available early Tuesday only) started his first business at the age of 24. With limited resources and no experience, he systematically bootstrapped a multi-million dollar technology business. Now on his third multi-million dollar venture, Obsidian Launch, Mike fosters startup businesses with his "get rich right" approach. Mike's book, The Toilet Paper Entrepreneur, offers get-real advice for aspiring entrepreneurs to finally get off the couch and start a business.
Darren Jacklin (available Tuesday evening) is called a Mega Manifestor. Tell Darren what you really, really, REALLY want in your personal or professional life and he can show you how to get it! A world-class professional speaker, corporate trainer, and author he has motivated and inspired personnel from more than 130 Fortune 500 companies such as Microsoft, AT&T, Black & Decker, Barclays Bank, Air Canada, as well as high school and professional athletes from more than 36 countries. His goal is to increase performance and production and to achieve more rounded, successful lives through a cooperative environment.
Wednesday –
Hazel Grace Dircksen is a sought-after consultant, entrepreneur, and founder of Socialbees, a company specializing in Social Marketing Strategies. Based in Silicon Valley, Hazel Grace Dircksen has helped numerous companies leverage social networking tools to expand visibility and reach new audiences. Hazel Grace is the Ladies Who Launch Silicon Valley leader and San Francisco co-leader where she continues helping female entrepreneurs launch and grow their businesses.
Ann Evanston has developed clients worldwide for over a decade. Teaching techniques of the warrior, clients learn to create "pull" to attract customer loyalty, channel intrinsic motivators, create buy-in and ultimately, obtain results. But it is her talent with monetizing Twitter that sets her atop the social marketing elite list.
Alvin Tam (available all 3 days) is the Founder and Creative Director of Soul Acrobats. He has been a professional acrobat for over 14 years, travelled around the world performing and coaching, but learned over the years and miles that passion drives life and fear can be your greatest teacher. Alvin helps people overcome fears, create dreams, and live a life of wonderful "impossibilities". He's flipped with Cirque du Soleil, danced in the musical Notre Dame de Paris, and flown on TV in CSI. Alvin will teach you to overcoming the impossible and have fun at the same time.
Monica Michelle is a highly regarded professional photography expert who has leveraged her talent and unique vision to create a successful business that realizes her passion. Monica has had her photographs published in literary journals and has been chosen to curate the Sun Galleries Ever After exhibit.
Edith Yeung is the co-founder of Clue Market Inc, a marketing & consulting company focusing on social marketing strategy. Her passion for connecting and bringing people together can be seen in SFentrepreneur.com, San Francisco Entrepreneur Meetup Group, and BiztechDay.
Thursday –
Scott Sigler (available early Thursday morning only) is the New York Times Bestselling author of INFECTED and CONTAGIOUS, major hardcover thrillers from Crown Publishing. He landed his book deal by giving away multiple novels as free, serialized podcasts that generated a large online following and saw over four million downloads of the individual episodes. Scott reinvented book publishing when he released EARTHCORE as the world's first "podcast-only" novel. Released in twenty weekly episodes, EARTHCORE harkened back to the days of serialized radio fiction and picked up 10,000 subscribers along the way. His next podcast novel, ANCESTOR, drew 30,000 listeners. The buzz caused Sirius Satellite to pick up the novel, making it the first audiobook serialized on the satellite network. When ANCESTOR was released in print from a small independent publisher, it hit #7 overall on Amazon.com, and was #1 in Horror and #1 in SciFi -- all despite no marketing, no advertising and no media coverage. Scott's innovative use of technology puts him at the forefront of modern-day publishing, and has garnered brand-name exposure among hundreds of thousands of fiction fans and technology buffs. He's been covered in Entertainment Weekly, the New York Times, NPR, Washington Post, San Francisco Chronicle, Publisher's Weekly, The Huffington Post, Business Week and Fangoria. INFECTED was optioned by and is currently in development as a motion picture from Rogue Pictures.
Dan Mapes is one of the foremost pioneers in the digital media industry. Aside from developing the internet based global communications systems for the United Nations (first live Internet summit), Intel, Apple, Bechtel, GTE, and other Fortune 500 companies, he is recognized as one of the leading experts on the development of entertainment content for the Internet and the future of networked virtual worlds. During his 20+year career in entertainment technology, he has designed and developed numerous digital media products, many of which are breakthroughs in computer-based media, including his latest revolutionary bleeding edge viral techology MagNet.tv.
Elaine Starling, founder of Starling Media Services, Inc., is a sought-after speaker, blogger, and internet marketer. Elaine generates innovative advertising and marketing programs for national and international companies such as WebEx, Shutterfly, Symantec and many others. She is an acknowledged thought leader and expert in Crucial Collaboration, typically doubling the value of clients' advertising budgets. Elaine is the recipient of the 2008 "Spirit of Women In Consulting" award that recognizes outstanding achievement in her profession. Discover the 7 Benefits your customers want to hear!
###