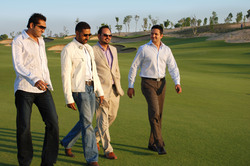 A few months ago there was nothing out here. It's amazing to see the villas being built and the community taking shape. The golf course looks spectacular and I am impressed by the attention to detail in the construction
UAE (PRWEB) January 26, 2009
Abhishek Bachchan recently toured the site of his villa currently under construction at Sanctuary Falls, the resort-style villa community located within Jumeirah Golf Estates being developed by Shaikh Holdings.
Abhishek was impressed with the significant progress that has been made on-site. "A few months ago there was nothing out here. It's amazing to see the villas being built and the community taking shape. The golf course looks spectacular and I am impressed by the attention to detail in the construction," he said.
Shaikh Holdings has made considerable progress in the construction of its award winning flagship project. Construction work is currently underway and the Sanctuary Falls show villa is due to be completed on-site by March 2009. The project is on schedule with a completion date of March 2010 for the entire 96 villa community.
Sanctuary Falls overlooks the Earth golf course designed by Greg Norman, and work on this course is also well underway. The already famous golf course will host the inaugural Dubai World Championship, which is part of the European Tour and is the world's richest golf tournament, scheduled for November 2009.
Imran Shaikh, CEO, Shaikh Holdings said, "Shaikh Holdings is committed to developing this benchmark residential community on time and to meeting the high expectations of our residents. Our project is on schedule with Abhishek, Aishwarya, and fellow Sanctuary Falls residents to receive keys to their villas by March 2010."
"Abhishek and Aishwarya are very excited about their new villa. They have entrusted us with building their dream home and we look forward to delivering on this promise."
Sanctuary Falls has already received numerous regional awards and has recently won the 'Best International Golf Development' award at the International Property Awards held at the Ritz-Carlton in Orlando, Florida, USA.
Sanctuary Falls is a landmark villa community set amidst lush golf vistas and inspiring lakes. The community features five to six bedroom villas, ranging from 5,600 to 10,600 square feet. Offering a selection of traditional, modern and contemporary architectural styles, each home has been meticulously designed to offer a unique and inspired living experience.
About Shaikh Holdings:
Shaikh Holdings is a leading Dubai-based real estate investment and development company. A family enterprise, Shaikh Holdings has a Middle East entrepreneurial heritage dating back to 1913 in Bahrain.
Expansion into real estate investments and development has driven Shaikh Holdings to look at both regional and international real estate markets. Today, its companies specialise in the acquisition, development, marketing and sale of exclusive properties worldwide.
Shaikh Holdings' real estate activities in Dubai are primarily focused in three major areas -- real estate development, real estate investments and real estate marketing. The company currently holds a significant portfolio of residential, commercial and hospitality real estate, and has been a leading institutional investor in the Dubai real estate market since 2002.
Shaikh Holdings is focused on developing boutique communities centered around golf, waterfront and themed concepts. The company's current developments in Jumeirah Golf Estates will be followed by other exclusive golf and waterfront projects in the UAE.
The company's primary Dubai investments have been in premier developments such as the Palm Islands, Emirates Hills, Business Bay, Dubai Waterfront and Jumeirah Golf Estates.
Shaikh Holdings maintains investment relationships with significant Dubai-based developers such as Dubai Properties, Nakheel and Emaar. Over the years it has also developed unique marketing partnerships with these developers who are creating some of the region's most iconic developments including The Palm, The World, Burj Dubai, Jumeirah Beach Residence and Dubai Marina.
Guided by the principles of innovation and excellence through its entire sphere of activity, Shaikh Holdings' corporate philosophy is focused on quality life experiences, with the aim of enhancing the lives of people through its business and development projects.
About Sanctuary Falls:
Sanctuary Falls is an award-winning boutique villa community that is being developed by Shaikh Holdings, and is set amidst lush golf vistas and inspiring lakes within Jumeirah Golf Estates. This landmark community features a collection of 96 resort-style villas overlooking the Earth golf course, designed by Greg Norman. The Earth course has been announced as the chosen venue for the richest golf tournament in the world, the Dubai World Championship to be held in November 2009.
With the freedom to choose from a selection of architectural styles, interiors and views, each home has been meticulously designed to offer a uniquely inspired experience. Conceived and created by world renowned hotel and resort architects, landscape and interior designers, Sanctuary Falls villas bring to life a true 'resort home' experience.
Sanctuary Falls recently won the award for 'Best International Golf Development' at the 2008 International Property Awards in Florida, USA. Shaikh Holdings also won 6 regional awards for Sanctuary Falls at the 2008 CNBC Arabian Property Awards, these were for 'Best Development', 'Best Golf Development', 'Best Architecture', 'Best Interior Design', 'Best Property' and 'Best Property Marketing'. The development has also previously been judged 'Best Golf Development' at the 2007 CNBC Arabian Property Awards.
Launched in July 2007, Sanctuary Falls has received keen interest from local and international buyers, and recently gained worldwide attention when Bollywood celebrity couple Abhishek and Aishwarya Rai Bachchan became residents of Sanctuary Falls. Construction of the villas commenced in April 2008 and the show villa will be ready by March 2009, with expected completion of all remaining 95 villas by March 2010.
For more information please contact:
Shaikh Holdings
Tel: +9714 364 2722
###