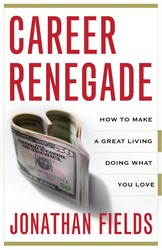 New York, NY (PRWEB) January 26, 2009 - Whether you're a bartender or an investment-
banker, losing a job hurts. But, there's a dirty little job-loss secret nobody's talking about..for millions, the job that just evaporated is the one you've hated for decades. In fact, a Harris Interactive study of 7,718 American workers completed before the recent economic downturn revealed:
42% felt burned out,
33% felt dead-ended,
21% wanted desperately to change jobs,
85% did not feel strongly energized by their work,
Nearly 70% believed their employers did not inspire the best in them,
A whopping 37% of management didn't care about the fate of their employer, and
An incredulous 34% planned on never being able to retire
Well, if you're in one of these groups and you've lost your job, the handcuffs have just been pried open. Question is, what will you do with your newfound freedom?
In his unconventional new career guide, Career Renegade: How to Make a Great Living Doing What You Love (Broadway; Jan 2009; $14), lawyer turned serial entrepreneur, blogger and author, Jonathan Fields, argues now is the perfect time to consider changing careers and making the jump from disgruntled ex-employee to passion-driven entrepreneur, even in this economy. And, he offers these tips:
1. Don't freak out - You may have lost your job, but your knowledge, skills, abilities, work ethic and relationships go with you. Your job now is to repurpose them for the next adventure.
2. Own up to your passion - You've buried your real passion for decades, likely because someone else said it was just a hobby. Time to own up to what makes you come alive and tap creativity and technology to turn your passion into real money…
3. Speeducate yourself - Turn off the TV, get online and devour everything you can find about the area of your passion.
4. Build a portable personal brand - Leverage blogging, twitter, Facebook and a variety of other social media tools to showcase your knowledge, skills and abilities, build community, gain the attention of thought leaders and position yourself as a go-to person in the area of your passion.
5. Circle your wagons - Decide who to cut loose and who to bring into your inner circle, then present the case of a lifetime to get those closest to you on your side.
6. Go renegade - If there is a clear "conventional" way to make a good living doing what you love, go for it. If not, go renegade.
Brainstorm and repurpose your passion into a market that places a much higher value on it than the conventional market. Graphic artist, Liv Hanson, is a great example. Turning her artistic abilities loose in world of baking, she transformed cakes into works of art that built a huge, profitable business.
Exploit gaps in education, information, community, merchandise and access in the culture surrounding your passion. Changes in technology over the last 3 years have made it possible to generate more money from the culture that supports nearly any passion than most people thought possible. Witness Bert Ingley, married, father who turned his mad video game passion into a six-figure income selling game-hacks online.
Sounds great, but can this really be done in this economy?
"Fact is," says Fields, "for many, the job that was left behind simply doesn't exist anymore in any company. So, if you're being forced to rebuild a new career in a different field, why not make it one that fills not only your wallet, but your soul?"
Echoing this growing undercurrent of entrepreneurial optimism, a recent small business survey revealed nearly 9 out of 10 small business owners in the U.S. would still rather work for themselves and a solid 60% expect 2009 to be as good or better as 2008.
"Rather than waiting around, hoping for someone to discover how valuable you are then once again surrendering control over your security and career to someone else," asks Fields, "what might happen if you moved beyond just changing careers and went renegade?"
Career Renegade: How to Make a Great Living Doing What You Love is available at booksellers everywhere.
###