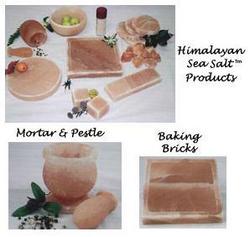 Evansville, IN (PRWEB) January 28, 2009
Today, Himalayan Salt Chef™ is pleased to announce its participation in the, 'Taste of the NFL' at Superbowl XLIII in Florida, on January 31st. At $500-a-plate, this star-studded annual event is a fixture the eve before the Superbowl and features a silent auction that has to date donated millions of dollars to feed the hungry and is even more difficult to get into than the Superbowl itself.
Michael Gallagher, of Himalayan Salt Chef™, commented, "Himalayan Salt Chef™ developed their line of salt-based cookware because it is truly wholesome: all 84 beneficial minerals and trace elements are available in a unique form that can be easily absorbed and metabolized by the body, and the rich delicious taste is absorbed naturally, through the process of cooking and baking."
This beautiful line of cookware includes a mortar and pestle, baking bricks, presentation slabs, utility plates, chef bowls, chopping blocks and cutting boards, all of which are antimicrobial and add a unique and healthy mineral-rich flavor of Himalayan pink salt to any preparation without the additional use of salt or high sodium soy sauce (see detailed products below).
Himalayan Salt Chef™ will join Martha Stewart Living Radio and Tom Colicchio, the head judge on Bravo's Award-winning culinary hit series "Top Chef" who is teaming up with the 'Taste of the NFL' to help tackle hunger in America. The silent auction entertainment is to be supplied by The Max Weinberg Seven (Max is the Band Leader for the Conan O'Brien Show on NBC and is also Bruce Springsteen's drummer in the E Street Band).
Himalayan salt kitchenware has been featured recently on NBC, Food Network, Iron Chef America and highlighted in national publications such as Newsweek, New York Magazine, Martha Stewart Living Magazine, etc. Himalayan Salt Chef is the premier manufacturer of salt kitchenware and in 2009 will introduce their complete line in North America.
The rarest and most precious form of natural salt, Himalayan Crystal Salt was formed millions of years ago, under the pressure of the Himalayan Mountains, where ancient seas had dried up from the extreme heat of the sun, thus trapping the sun's energy. This enormous pressure changed the molecular structure of the rock salt deposits, making it the best quality crystal salt in the world.
The Company:
Himalayan Salt Chef produces a unique, beautiful and functional line of kitchenware that is simply the healthiest way of preparing food. Himalayan Salt Chef was formed in 2008 with its stated goal of bringing the benefits of Himalayan Salt to both professional and home chefs. They have their own factory to insure quality and the complete product line is kitchen-tested by a CIA trained chef. Whole Foods in Canada carries the complete Himalayan Salt Chef product line, and, in 2009 HSC is expanding to the U.S.
For more details on the Himalayan Salt Chef, please contact:
Himalayan Salt Chef, PO Box 5453, Evansville, IN 47715
Michael Gallagher, Phone 812-303-0701
Himalayan Salt Chef™ Products:
Chef Bowl:
A simple thing of beauty that has a myriad of uses from mixing fruits and vegetables, for that just right salt touch, to serving cold summer soups. The Salt Bowl may be oven or range top heated (see instruction guide) and used frozen or chilled to compliment a wide range of dishes.
Mortar & Pestle:
The Himalayan Salt Chef TM Mortar and Pestle is an incredible new take on an age old product. Not only grind spices, herbs, sea salts .etc, in the traditional manner while adding a unique and healthy hint of Himalayan Pink Salt to any preparation.
Geta:
Geta means "shoe" in Japanese and the HSC Salt Geta is a beautiful replica of the wooden Geta found in Sushi restaurants across the globe. Use less or no soy sauce as moist Sushi or Sashimi picks up the wonderful mineral rich flavor of HSC Salt.
Round & Square Utility Plates:
Himalayan Salt Chef ™ Round and Square Utility Plates are multi-purpose and designed to fit into standard cast iron pans for oven and range/grill use. Utility Plates may also be used as chopping blocks and cutting boards to introduce a salt touch to a variety of foods. In addition, these versatile plates may be used as serving platters for both hot and cold items.
Baking Bricks (Set of 2):
Himalayan Salt Chef ™ Baking Bricks are multi-purpose salt rectangles designed to fit 1/4 and 1/2 size baking pans. They can be used for baking, oven grilling, food presses, hot and chilled serving presentations.
Sab Set:
Himalayan Salt Chef ™ Serving Slabs are not only unique ways to present and serve seafood delicacies, but with the added benefit of giving a salty hint to moist foods such as sushi and sashimi. Forget high sodium soy sauce! Another plus is that due to their salt composition, these slabs and trays are antimicrobial by nature.
Himalayan Salt Warmer:
The HSC Salt Food Warmer is a beautiful and functional table presentation to keep cooked food warm at the dinner table. The anti-microbial salt plate sits on an attractive rosewood base. Uses standard 40W bulbs for warming and unit can be turned off for chilled or room temperature foods such as sushi.
Salt Caddy:
This unique Salt Caddy jar with an airtight salt lid has the ability to store ground herbs, spices and sea salts fresher and longer. Salt pulls moisture away from the stored food- preventing oxidation, and it looks great on the kitchen counter.
###