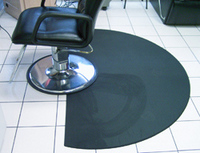 My legs no longer ache after a long day at work
Cleveland, OH (PRWEB) January 29, 2009
The new Ortho Salon Mats help eliminate slips and falls, reduce stains, pains and worker's compensation claims related to prolonged standing. The new Ortho Mat is Martinson-Nicholls' softest salon matting, but is impervious to acids, chemicals and petroleum products.
Available in a Semi-Circle or Rectangle, 3/4" or 3/8" thickness and black or gray to fit any beauty salon application, there are two patterns available. The original aggressive top is for oily areas, and the smooth top is for easy hand cleaning and dry areas. These nitrile mats are non-allergenic, latex and silicone free. The National Floor Safety Institute has approved this mat with a non-slip quality test that was 40% higher than any other sponge mat. The closed cell feature eliminates absorption of liquids and fluids. Permanent hair dyes and others chemicals can be wiped off with acetone.
The Salon Ortho Mat will promote employee wellness, increase productivity and employee morale due to work place comfort. The salon mats are guaranteed to reduce the effects of prolonged exposure to cold, heat and vibration while also increasing circulation and reducing spinal compression.
"My legs no longer ache after a long day at work," offers Susan Jennifer.
These cushioned, anti-fatigue mats can be used in styling stations, shampoo stations, manicure stations, facial and waxing stations and any other area where workers may be standing. The beveled edges provide added safety for customers and cart traffic.
The Salon Ortho Mat is impervious to all chemicals, petroleum products, animal or vegetable fats. It is very easy to maintain, and can be cleaned with ammonia, bleach, chlorine, or acid based cleaners. It can also be steamed. Fabricated from superior closed-cell virgin nitrile rubber, an antimicrobial compound is added as part of the manufacturing process to prevent mold, mildew and bacterial growth.
About Martinson-Nicholls
Martinson-Nicholls, has established itself as a leader in custom floor matting, heated floor mats, and safety solutions for more than 25 years.
Martinson-Nicholls provides the customer with the exact size matting needed--small, large, standard, nonstandard, special shapes and logos. Custom installations are also a specialty of the company.
Anti-slip safety tapes and treads are available in various sizes and textures from hand cut or die cut pieces to full rolls and special shapes. For more information, please visit http://www.floormat.com.
###