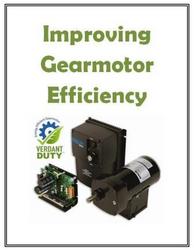 We wanted to outline the fact that the energy savings to be had with even small fractional horsepower gearmotors can offer relatively short payback times for users
St. Charles, IL (PRWEB) January 29, 2009
A new white paper on "Improving Gearmotor Efficiency" posted on the Bison Gear & Engineering Corp. web site addresses the relatively untapped energy savings to be had with the proper application of the billions of fractional horsepower electric motors and gearmotors in use today. Most electric motor efficiency efforts and attention to date have only focused on about 10 percent of the total electric motor population: those motors of one horsepower (746 watts) or greater.
"We wanted to outline the fact that the energy savings to be had with even small fractional horsepower gearmotors can offer relatively short payback times for users," said John Morehead, Bison Gear vice president, strategic planning and marketing. "This brief report identifies the scope of the problem and offers some practical application solutions that can help not only gearmotor specifying engineers, but users as well."
According to the U.S. Department of Energy (USDOE), electric motors consume over two-thirds of the electricity used in domestic manufacturing and almost one-quarter of America's total electric energy consumption. To compound matters, the USDOE estimates only 12 percent of users consider the benefits of lower energy operating costs for more efficient electric motor systems.
Billions of fractional horsepower (less than one horsepower or 746 watts) electric motors are used in vent fans, ice dispensers, vacuums, furnace blowers, garage door openers, and thousands of other consumer applications. Millions more small motors and gearmotors are found in thousands of commercial and industrial applications involving pumping, dispensing, cooling, conveying, mixing and every facet of automation.
For example, to operate a 50 percent efficient 1/8 horsepower (93 watt) gearmotor in Illinois or California, at a 10 cents per kilowatt hour commercial rate, the annual cost will be $164.25. By comparison, the more energy-efficient alternative at 80 percent efficiency, would only incur $102.20 in operating expense, yielding annual savings of $62.05 to the user over the life of the machine. The "Improving Gearmotor Efficiency" white paper can be freely downloaded from Bison Gear's web site.
About Bison Gear & Engineering Corp.
Founded in 1960, Bison Gear & Engineering Corp. designs and manufactures fractional horsepower electric motors, gearmotors and gear reducers used in industrial and commercial OEM applications worldwide. Bison's strong engineering tradition, based on Robusticity (TM) principles, offers products with up to twice as much torque in the same package size as competitors. Bison employs nearly 270 associates in its St. Charles, Illinois facility which produces gearmotors and reducers in parallel shaft and right angle configurations, as well as AC and DC electric motors, for applications where dependability and long lifetimes are important.
###