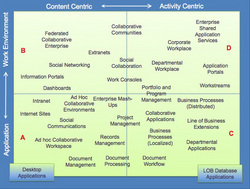 Our previous three white papers looked at SharePoint as providing a modular, distributed front-end environment for creating applications 'on the glass,'
Reston, VA (PRWEB) January 27, 2009
CorasWorks Corporation , a leading provider of modular application development software for Microsoft's SharePoint platform, has announced the release of the fourth white paper in its modular application development series. The white paper titled "Solution Quadrant for SharePoint" provides a review of 13 solution categories that are driving business value for SharePoint users.
"Our previous three white papers looked at SharePoint as providing a modular, distributed front-end environment for creating applications 'on the glass,'" said William Rogers, Founder and Chief Workplace Architect at CorasWorks. "This fourth white paper takes us up a level. We move beyond the capabilities and design and focus on the solutions that really put SharePoint to work in 2009."
In the white paper, CorasWorks presents a broad perspective of the solution space on SharePoint and introduces its Solution Quadrant. The Quadrant consists of 30 solutions categorized on one plane. The solutions are organized into 13 categories for a deeper drilldown into their positioning, business value, and their movement and drivers.
This white paper also provides CorasWorks' top 10 list of ways to increase the value businesses derive from SharePoint in 2009.
Through this white paper series, CorasWorks is making knowledge available to developers, CIOs and business decision-makers who are seeking to maximize their SharePoint investments. Download the free white paper "Solution Quadrant for SharePoint" at http://www.corasworks.net/solutionquadrant.
About CorasWorks
With 1,000 customers and more than 1 million users worldwide, CorasWorks is a leading provider of modular application development software for Microsoft SharePoint. Customers use our products to build web-based solutions such as project- and process-oriented solutions and line of business applications. Our modular architecture makes it easy to design, build, and manage an integrated workplace of collaborative business applications, without the time and expense of custom development. For more information and online demos, please visit http://www.corasworks.net.
# # #