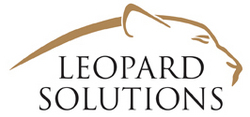 New York, NY (PRWEB) January 29, 2009
Leopard Solutions launches Leopard Law Firm Profiles on January 28, 2009 which will showcase each law firm's office locations, law practice areas, the number of attorneys at the firm and more. The new Leopard Law Firm Profiles feature fully integrates with Leopard Solutions' other lines of attorney and law firm services such as Leopard Reporting and attorney databases. Public Leopard Law Firm Profiles will be available free of charge for all visitors to Leopard Solutions' website while private profiles are only available to Leopard Solutions' clients. Using Leopard Law Firm Profiles, law students, attorneys and the general public can effectively research law firms with more accurate and timely information.
New Leopard Chat Premiere
Recruiters shouldn't miss this must watch episode of the new Leopard Chat series on January 28th featuring Miriam Ellis of Solas Web Design. We will discuss the importance and pitfalls of business websites. Miriam will highlight common mistakes designers make and how recruiters can work to correct them. On February 2nd we will feature Mark Dighton of The Practicing Law Institute who will speak about CLE classes for attorneys.
The Law School Project
Leopard Solutions welcomes all of the law school's who have already applied for The Law School Project - 2009 BETA program which will include a new Job Search program that monitors Summer Associate Programs and entry level positions for students. If you have not already applied, The Law School Project is still accepting applicants for this exciting opportunity. Please download the application and information here or contact mailto: laura@leopardsolutions.com [ Laura Leopard __title__ Laura Leopard].
The law school project will offer law students free access to powerful Leopard Solutions legal tools such as Law Firm Profiles, The Leopard List, a modified Leopard Job Search, Leopard Reporting, Leopard Job Board, Leopard Law Blog, Hot Spot and our revamped Legal Recruiter Directory. This mix of professional and public legal tools will give law students and law school administrators access to information about the legal job market, industry opportunities, legal job search tools, law firm research tools, and exclusive video interviews with legal professionals offering their professional insights.
About Leopard Solutions
Leopard Solutions (http://www.leopardsolutions.com) is a complete resource used by law firms, legal recruiters and law schools to keep informed about the legal marketplace. Leopard Solutions delivers accurate and timely information about attorneys, jobs and law firms in a robust, user-friendly format.
Products include The Leopard List (a search engine of partners, counsels and associates in the major US markets); Leopard Reporting (an overview of the legal landscape that is updated 4 times a year for more of a real-time look at the industry), Leopard Job Search (listing job needs of over 400 law firms nationally and internationally twice a day), Leopard Chat (video series featuring interviews with some of the most innovative and informed law professionals in the industry), Leopard Blog (featuring original content for attorneys and law students), Leopard Hot Spot (a daily legal news feed), Leopard Law School Project (free service for law students and administrators), Leopard Law Firm Profiles and an exclusive FREE attorney homepage (offering research tools, business and hiring solutions for law firms) making Leopard Solutions a one-stop resource for attorneys and law students.
###