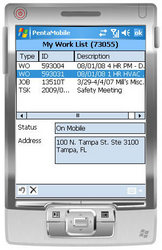 Contractors are looking for new ways to optimize and grow their service businesses
Milwaukee, WI (PRWEB) January 29, 2009
Penta Technologies, Inc., a leading provider of enterprise software for the construction industry, today announces the release of PENTA Mobile Field Service, a mobile construction software application designed to help mechanical, electrical and other specialty service contractors optimize their field service operations. The application, being introduced at the 2009 AHR Expo® in Chicago, reduces paperwork, eliminates duplicate data entry, expedites approval processes and provides real-time management visibility to field activity.
PENTA Mobile Field Service software keeps contractors' service management staff and field service technicians, and the mission critical information they exchange, seamlessly connected throughout the work day. Dispatchers have real-time status visibility of all field service technicians, and send prioritized assignments for work orders, jobs or other non-billable activities, which are automatically received on the field service technician's mobile device.
When a task is complete, field service technicians transmit their labor time, material inventory and customer equipment information directly into approval queues, expediting the customer billing and employee payroll processes. PENTA Mobile Field Service is fully integrated to PENTA Construction ERP Software, providing contractors with a comprehensive solution for managing their construction and service lines of business together.
"Contractors are looking for new ways to optimize and grow their service businesses," said Harvey Shovers, Penta Vice President of Sales & Marketing. "PENTA Mobile Field Service underscores our commitment to helping the construction industry's leading contractors better manage diverse service operations."
Penta selected the Dexterra Concert™ mobility platform as the underlying technology to build and run the PENTA Mobile Field Service. Dexterra Concert lets Penta quickly build mobile applications for the construction industry based on Penta's existing suite of engineering and construction enterprise software. PENTA Mobile Field Reporting, also built on the Dexterra Concert platform gives crew foremen instant access to daily crew assignments, the ability to quickly send critical paperwork to home offices or agencies, and faster workflow on accounting such as receivables and payroll.
"Engineering and construction firms across the U.S. are seeking ways to improve productivity and reduce operational costs through the deployment of mobile solutions that are tailored to their specific needs and how their field staff work," said Rob O'Farrell, general manager of Mobile Platform and Applications, Dexterra. "Through its partnership with Dexterra, Penta is able to deliver a cost-effective integrated mobile solution that functions as a seamless extension to their PENTA Construction ERP software, and is fully optimized for use on their customer's choice of mobile device."
"Penta's legacy of providing engineering and construction firms with the tools they need to work better and faster is already well-known in the industry," said Rob O'Farrell, general manager of Mobile Platform and Tools, Dexterra. "By offering their customers an easier way to implement a mobile solution that gives them a sophisticated and mobilized workforce, their customers can work smarter and stay more competitive in the market."
Mechanical, Electrical and Specialty Service Contractors are seeking systems that:

Support the decentralized and mobile nature of construction and service by being available anywhere, anytime though use of Web, mobile and other advanced technologies.
Integrate customer, vendor and employee data throughout construction and service operations.
Analyze historical performance for planning, identify exceptions for action, and trend current performance for forecasting, while "drilling down" to critical supporting detail.
Project Managers can use to effectively manage and deliver multiple construction projects to their customers meeting the highest standards of budget, schedule, quality and safety.
About Dexterra
The business mobility company™. Dexterra provides a broad portfolio of mobile applications built on its open mobility platform, Dexterra Concert™, that enables businesses worldwide to manage and optimize their mobile workforces. Dexterra supports the largest selection of mobile devices and integrates with the widest range of enterprise back-office systems in use today. Dexterra's end-to-end solutions help companies large and small experience rapid deployments, greater returns, higher customer and user satisfaction, and a longer lifespan over any other competing solution.
Dexterra has operations in the Americas, Europe, Middle East and Asia Pacific and a vast network of global partners including AT&T, IBM, Motorola, RIM and Telstra. For more information, visit http://www.dexterra.com.
About Penta
PENTA Construction ERP is an innovative construction enterprise software system designed to help engineering, construction and service enterprises improve business performance. From integrated Multi-Company Financials, Projects, Service, Labor and Equipment, to Analytics, Document Imaging, Workflow and Mobile Field software, PENTA provides the deep, industry-specific feature set and forward-looking technology engineering, construction and service firms need to improve and grow their businesses. For more information, visit http://www.penta.com
###