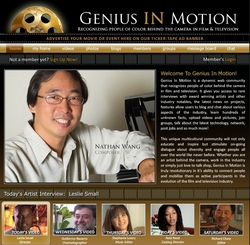 This is simply a wonderful way to promote multiculturalism and contribute to diversifying the film and television industries
Los Angeles, Calif. (PRWEB) January 29, 2009
Ponder this: a worldwide website that promotes diversity behind the camera. Well, that's exactly what will launch on January 27 when Genius In Motion offers the cyber-enthusiast an opportunity to view rare interviews with artists, as well as other industry notables. Its innovative networking community offering user-friendly search components, blogs, groups, job postings, and videos is available for members worldwide. Now it's just a point, click and a stream away, tucked neatly inside your computer, providing a variety of interactive tools in an effort to support artists and give future Genius generations inspiration, education, support, guidance and a professional network.
Although the mission of the Genius in Motion community is to recognize, support, inspire and promote multiculturalism in the film and television industries, it is also a place where all entertainment aficionados can surf and talk shop!
The colorful and diverse Web portal, http://www.geniusinmotion.com , will showcase and salute award-winning Geniuses behind the camera such as, Oscar winner, Guillermo Navarro (Cinematographer; Night at the Museum; Hellboy II); Emmy winner, Robi Reed-Humes (Casting Director; Their Eyes Are Watching God, Malcolm X), Academy Award winner, John Singleton (Shaft, Hustle & Flow) Salma Hayek (Executive Producer, Ugly Betty); Morgan Freeman (Producer, 10 Items or Less); Bill Cosby (Writer, Fat Albert) and Oprah Winfrey (Executive Producer, The Oprah Winfrey Show).
Leslie Small (Director) will take the stage during the official launch, discussing his current film projects including Hair Show and A Good Man is Hard to Find giving insight into what it took for him to "climb the Hollywood ladder" and become a successful, working director in Tinsel Town.
Tracie Dean Ponder, founder of Genius in Motion and CEO of Ponder This Productions, Inc. began creating this incredible concept four years ago and is thrilled that it has evolved and finally come into fruition.
"This is simply a wonderful way to promote multiculturalism and contribute to diversifying the film and television industries," said Tracie Dean Ponder (Founder of Genius in Motion). "The lack of information about people of color behind the camera is blaring and those who have made significant contributions are relatively unknown. The industry still has an incredible amount of work to do when it comes to this issue. This undertaking is my small contribution."
The colorful .com will launch its premiere pages showcasing Geniuses behind the camera and allowing users to search the free encyclopedia database for profiles on people of color who have helped shape the industry. As Genius In Motion continues to develop, users will be able to participate in webinars, search articles, listen to podcasts and utilize an extensive database chock-full of rare fact-finding feats.
Fans are encouraged to keep the URL bookmarked, as the site unveils the people and the power behind making film and TV classics. During the month of January, geniusinmotion.com will present many geniuses, including casting extraordinaire, Robi Reed-Humes, Stephanie Lowry (Music Editor: Tropic Thunder;Stranger than Fiction) and Richard Chew (Editor: Star Wars, Bobby, Waiting To Exhale).
In February during Black History Month, Genius in Motion will recognize Academy Award nominated director, Spike Lee, Emmy nominated producer Tim Reid (Paul Mooney: Analyzing White America), award winning director, Euzhan Palcy and First National Vice President of the Screen Actors Guild, Anne-Marie Johnson.
At the dawning of a new era, following the inspirational inauguration of our first African American President Barack Obama, Genius in Motion has pioneered a multi-ethnic community that is destined to evoke the spirit of our American melting pot and a colorful, universal sundry of outstanding Geniuses in motion.
About Ponder This Productions Inc.:
Ponder This Productions is a multimedia entertainment company founded in 1999 by writer/filmmaker, Tracie Dean Ponder. The production company specializes in the development, production and distribution of film, television, theatre and literary products. Its mission is to produce diverse and quality projects that will entertain, educate and inspire its global audience, developing works of various genres for audiences of all ages, religious and ethnic backgrounds. Ponder This Productions is truly committed to keeping all geniuses in motion. For more information, visit http://www.ponderthisproductions.com.
Note to Media:
Interview Schedule:
January - Launch of Genius in Motion
January 27 Leslie Small, Director
January 28 Guillermo Navarro, Cinematographer
January 29 Stephanie Lowry, Music Editor
January 30 Robi Reed, Casting Director
January 31 Richard Chew, Editor
February - Black History Month
February 1 Spike Lee, Director
February 8 Euzhan Palcy, Director
February 15 Tim Reid, Producer
February 22 Anne-Marie Johnson, First National Vice President of the Screen Actors Guild.
Note to Media: For media inquiries, photos or B-roll, please contact Heather J. Taylor at Alliance Worldwide Communications: 323-839-4488 or htaylor (at) alliancewc (dot) com. Tracie Ponder is available for bookings and special appearances. Visit http://www.geniusinmotion.com for more information.
###