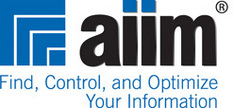 Scanning and imaging are important ways to improve operational efficiency and collaboration, and organizations have today a wide variety of technology options for imaging and recognition. Organizations need to plan the capture process and identify what, who, when, where, and how documents and forms should be captured
Silver Spring, MD (Vocus) January 27, 2009 -–
AIIM and @doc today announce the expansion of their education partnership and introduce the availability of AIIM Essential Imaging and Recognition, the newest addition to the AIIM Essentials series of technology-based education programs.
"Scanning and imaging are important ways to improve operational efficiency and collaboration, and organizations have today a wide variety of technology options for imaging and recognition. Organizations need to plan the capture process and identify what, who, when, where, and how documents and forms should be captured," states AIIM Director Bob Larrivee. "AIIM's Imaging and Recognition program delivers a vendor-neutral and independent perspective on these technology tools and a clear perspective on what to look for when evaluating solutions. This program, while beneficial as a standalone program, also serves as a strong enhancement to our business series of certificate programs that address the many challenges of governance and management when applying these technologies to a business problem. We are pleased to work with @doc in developing and delivering such a comprehensive program."
AIIM Essentials course on Imaging and Recognition consists of several modules within a single program encompassing the following topics:

Introduction – Essentials
Imaging Project Planning
Legacy Imaging Conversion
Day Forward Imaging
Indexing and Recognition
@doc Principal Brian Tuemmler adds, "In the Imaging and Recognition course you will not only learn about the technology, you will also learn about the strategic and people issues involved in capturing paper and film and populating an imaging system. "
For more information about the AIIM Essentials program, visit aiim.org/essentials. For information about AIIM's Certificate programs on enterprise content management (ECM), electronic records management (ERM), business process management (BPM), information organization and access (IOA), email management (EMM), and enterprise 2.0 (E20) visit http://www.aiim.org/training.
About AIIM
AIIM (http://www.aiim.org) is the community that provides education, research, and best practices to help organizations find, control, and optimize their information. For over 60 years, AIIM has been the leading non-profit organization focused on helping users to understand the challenges associated with managing documents, content, records, and business processes. Today, AIIM is international in scope, independent, implementation-focused, and, as the representative of the entire enterprise content management (ECM) industry - including users, suppliers, and the channel - acts as the industry's intermediary.
AIIM was founded in 1943 as the National Microfilm Association and later became the Association for Information and Image Management. AIIM is also known as the Enterprise Content Management Association.
Subscribe to AIIM RSS feeds at http://www.aiim.org/feeds
Subscribe to industry press release feeds at http://www.aiim.org/ResourceCenter/RSSFeed.aspx?Type=PRESSRELEASES
About @doc
@doc is an independent consulting and training firm specializing in document, content and records management, strategic document management programs, knowledge management, process design, and business information systems including imaging, workflow and document management.
For more information, contact:
AIIM
Beth Mayhew, Senior Director
301.755.2681
bmayhew(at)aiim.org
Bob Larrivee, Director
blarrivee(at)aiim.org
@doc
Brian Tuemmler, Principal
briant(at)atdoc.com
###