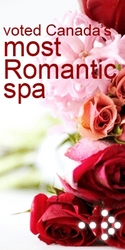 Grafton, Ont. (PRWEB) January 29, 2009
Ste. Anne's Country Inn and Spa welcomes February, the month of love, with three elegant Valentine's Day packages that are the ideal way to celebrate your relationship. Share special memories over an exquisite dinner, enjoy a decadent couples' massage, and renew your love in a beautiful, romantic setting.
For a quick but meaningful getaway, the Bolero Day Spa Romance Package is the perfect choice. Named for the Bolero Rose, with its strong fragrance and delicate blooms, this package includes lunch, afternoon tea with a special romantic dessert, and an enticing hour-long warm chocolate massage for the two of you. This decadent Swedish massage combines dark chocolate with coconut oil and your choice of peppermint or orange essences. As the treatment ends, you and your partner will be served a luscious ice-wine chocolate truffle. A group wellness class and complete use of the facilities is also included in this enjoyable package.
Duet, an Overnight Romance Spa Package, is named after the famously hardy and long-lasting Duet Rose. This delicious getaway includes one night's standard accommodation, breakfast, lunch, afternoon tea, and dinner, which features a chocolate fondue with fresh fruit for dipping; the fondue set is yours to keep. Two group wellness classes and an hour-long couples' warm chocolate massage are also included, as is complete use of the facilities and a gift bottle of customized Aveda massage oil.
Finally, the outstanding Altissimo Overnight Romance Spa Package, named after a remarkable rose plant that produces cupped red flowers with yellow stamens, features one night's accommodation in a luxurious suite, where you will find a bouquet of flowers and chocolate-covered strawberries upon your arrival. It also includes breakfast, lunch, afternoon tea, and dinner, as well as two group wellness classes, complete use of all the facilities, an hour-long couples' massage with warm chocolate and coconut oil in the comfort of your room, and a gift bottle of customized Aveda massage oil.
Celebrate the month of love with one of our elegant L'amore gift card packages. Order on Ste. Anne's secure website or call 1-888-346-6772. When you purchase a Ste. Anne's gift card, from now until the end of February, you will receive a love potion consisting of 4 components:
THE TEASER: A romantic red envelope
PROOF OF YOUR LOVE: Ste. Anne's Gift Card
THE MOOD SETTER: Complimentary vial of AVEDA's calming massage oil
THE PRESENTATION: Unique personalized card holder for gift card& massage oil
These signature packages and gift cards show why Ste. Anne's was one of eight spas in the world that SpaFinder's deemed "Best for Romance" in 2008. There's no better way to celebrate Valentine's Day than spending some time relaxing together at Ste. Anne's, where romance flourishes.
###