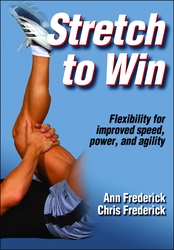 I'm glad I'm here to bear witness to her stretching.
Champign, IL (PRWEB) January 28, 2009
The Super Bowl-bound Arizona Cardinals may have one leg up on the Steelers--literally. Most of the Cardinals' starting line-up employ a unique flexibility program performed by local Arizona flexibility specialists Ann and Chris Frederick that lengthens fascia, the connective tissue that surrounds muscles and joints. The Fredericks and their team leave on the Cardinals' charter jet Thursday to continue their work with the team in Tampa Bay.
"My legs are feeling fantastic right now, and it's because of her," says Cardinal linebacker Karlos Dansby of Ann Frederick, or "The Stretch Lady," as she's known to many players. Dansby credits Frederick with prolonging his career, telling the New York Times, "I'm glad I'm here to bear witness to her stretching."
Frederick performs a trademarked therapy known as Facial Stretch Therapy (FST) that she and her husband, Chris, developed at their Tempe Stretch To Win Center. The therapy counteracts the thickening and shortening of fascia caused by football training and injury, which puts limits on range of motion and muscular abilities. Two dozen Cardinals take part in the therapy.
"We're basically helping to make all layers of fascia become more pliable and hydrated," explains Chris Frederick, also a physical therapist. "Then joint range of motion, muscle strength and flexibility immediately improves making it easier for the guys to train and maintain."
Dansby and others believe the Fredericks deserve some of the credit for the Cardinals' robust health, a key factor in their success this season. The team has placed only five players on injured reserve this season and have had very few pulled hamstrings and similar injuries that nag other teams.
"Our approach is different than other stretching programs because our techniques are done in a logical anatomical order," says Chris Frederick. "By stretching the shorter muscles first and then the longer muscles that span several joints, we can give players better functional flexibility at a faster rate."
Coincidentally, Ann's longest term high-profile athlete is not an Arizona Cardinal, but Philadelphia Eagle quarterback Donovan McNabb. He and Frederick have worked together for almost 10 years, and managed to squeeze in a therapy session around her work with the Cardinals last week.
The Fredericks have trained therapists throughout the country on the FST system through the Stretch to Win Institute and have also explained the dynamic exercise techniques in their book, Stretch To Win (Human Kinetics, 2006), which contains both stretches that individuals can do independently and assisted stretches, like those the Fredericks facilitate with Cardinals players.
For more information on FST and Stretch To Win, visit http://www.StretchToWin.com.
###