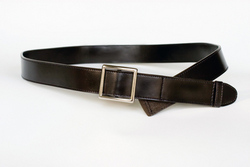 We are excited to intensify our marketing efforts of the Adult Myself Belt
St. Louis (PRWEB) January 28, 2009
Myself Belts, the one-handed belt that promotes independence and assists with easy dressing, introduces their product to the adaptive clothing community. Myself Belts had been primarily marketed to children ages 2-6 since the company was founded in Fall 2004. The company is now taking the next step to spread the word that their product is as useful for those in the medical community as it is for moms, dads, and their young children.
Originally designed for young children, the creators of Myself Belts, sisters Talia Bahr Goldfarb and Danielle Bahr Eason, realized their product had a second important audience: individuals with hand dexterity difficulties due to stroke, arthritis, amputation, or other physical and cognitive disabilities.
Myself Belts work to promote independence, restore dignity, and improve day to day life through a patented one-handed closure. By snapping one end of the belt around the front left belt loop, sliding the rest of the belt through the belt loops, and using the Velcro® closure, the belt can be easily fastened with one hand. The removable faux buckle gives a Myself Belt the look and feel of a traditional belt.
Childrens' sized Myself Belts can be found online at MyselfBelts.com, Amazon.com and in over 600 stores and e-boutiques worldwide. The adult sized Myself Belts were launched at the October 2008 MEDTRADE. Several online adaptive clothing stores offer Myself Belts, and the belts can also be found in the catalogues Support Plus™ and Gold Violin.
"We are excited to intensify our marketing efforts of the Adult Myself Belt," said co-owner Goldfarb. "Myself Belts have been so helpful for children and their parents, and we believe that the belts are a valuable addition to the adaptive clothing community. With so many individuals suffering from arthritis, stroke, and other disabilities, we hope the Adult Myself Belt will improve the day to day lives of these individuals."
Currently, Adult Myself Belts come in brown leather with a decorative silver buckle and are offered for waist sizes 27/29-46/48. A black leather will soon be offered, and other styles are in the works. Suggested retail price for the adult belts is $24.50. Myself Belts are also available in kid-friendly styles for children age two to six years. Suggested retail price for the children's belts is $14.95-$25.95, with the higher priced belts being monogrammed. Belts can be purchased by phone at (314) 863-BELT (2358) or online at http://www.myselfbelts.com.
# # #