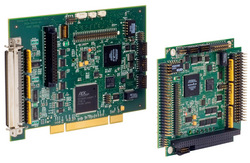 Lincoln, Massachusetts (PRWEB) January 28, 2009
Performance Motion Devices, Inc. (PMD) continues to innovate its Prodigy family of motion cards with the launch of new programming capabilities for both the Prodigy PCI and PC/104 formats. This advancement gives machine designers the capability to download motion programs to the board level, off-loading the PC host and increasing the ability to distribute motion programming throughout a machine design. Support for Ethernet communication with UDP and TCP protocols in addition to serial and CANbus protocols facilitate the downloadable programming features and extends access to the cards from anywhere on the network.
The Prodigy PC/104 format offers a compact and expandable distributed architecture. Its stackable configuration lets designers easily combine multiple motion cards and I/O cards into space constrained locations. Downloaded programs can be configured to independently manage I/O connections to start a motion, change an I/O state, or even communicate I/O status to external devices. The new Ethernet communications support allows the PC/104 cards to easily communicate with other Ethernet based devices and computers.
C-Motion® Engine:
Programming is made easy with C-Motion®, a source code library of motion commands for development of C/C++ programs that run on the Prodigy Motion Cards. PMD's C-Motion® Engine stores and independently runs the downloaded motion control code on the Prodigy Motion Cards.
Both Prodigy card formats provide high performance board-level motion control for scientific, industrial, robotic, and general purpose automation applications. These cards support multiple motor types including DC brush, brushless DC, step, and microstepping motors, and are available in 1, 2, 3, and 4-axis versions. Based on PMD's industry leading Magellan® Motion Processor, the Prodigy cards provide user-selectable profile modes including S-curve, trapezoidal, velocity contouring, and electronic gearing. Servo loop compensation utilizes a full 32-bit position error, PID with velocity and acceleration feedforward, integration limit and dual biquad filters for sophisticated control of complex loads. Prodigy Motion Cards come with serial, CAN and Ethernet communications options. The new motion cards are available in OEM quantities starting at $575.
"The Prodigy card with Programmable C-Motion Engine is the most important new product PMD has released since the Magellan Motion Processor in 2004. It solves a fundimental motion problem - how to write code in a standard language rather than a vendor-specific language, and how to run that code right on the card for maximum performance. Prodigy/CME solves both problems simultaneously - and the result is superior code transportability, and superior system performance." - Chuck Lewin, Founder and VP of Engineering, Performance Motion Devices, Inc.
Features:

Board-level C-Motion program execution
Uses PMD's advanced Magellan Motion Control IC
High-speed servo loop rate: 50 µsec/axis
Available in 1, 2, 3, & 4 axis versions with user selectable motor type by axis
C-Motion® Engine peak performance : 96 MIPS with 256kB of code space
High-speed motion trace for servo tuning diagnostics (up to 64 KB)
S-curve, trapezoidal, electronic gearing, and user-generated profile modes
Motor Command: 16-bit analog, pulse & direction, PWM
Incremental and parallel encoder input
Dual loop encoder feature
PID filter with velocity and acceleration feedforward and dual biquad filters
Prodigy I/O:

2 limit switch inputs / axis
2 high speed capture inputs / axis
1 dedicated output / axis
8 general purpose digital inputs
8 general purpose digital outputs
8 general purpose analog inputs (10-bit)
About PMD:
Performance Motion Devices, Inc. provides OEMs worldwide with cost-effective, high performance chip, card, and drive based motion control solutions. With over 2.5 million installed motion axes, PMD products are used to control brush, brushless and stepping motors in the medical, commercial and industrial markets.
Performance Motion Devices
55 Old Bedford Rd
Lincoln, MA 01773
tel: 781.674.9860
fax: 781.674.9861
http://www.pmdcorp.com
###